Whilst the functionality of these distinctive extensions has evolved significantly since the 1980's, there is something particularly evocative about classic conservatory design.
With massive advances in glazing technology, building materials and joinery expertise, today's conservatories are designed to be enjoyed and used all year round.
In recent years, discerning homeowners have favoured extending their properties with an orangery or garden room style extension, but there is an elegant style to a classic conservatory that ensures there remains an enduring appeal to these timeless structures.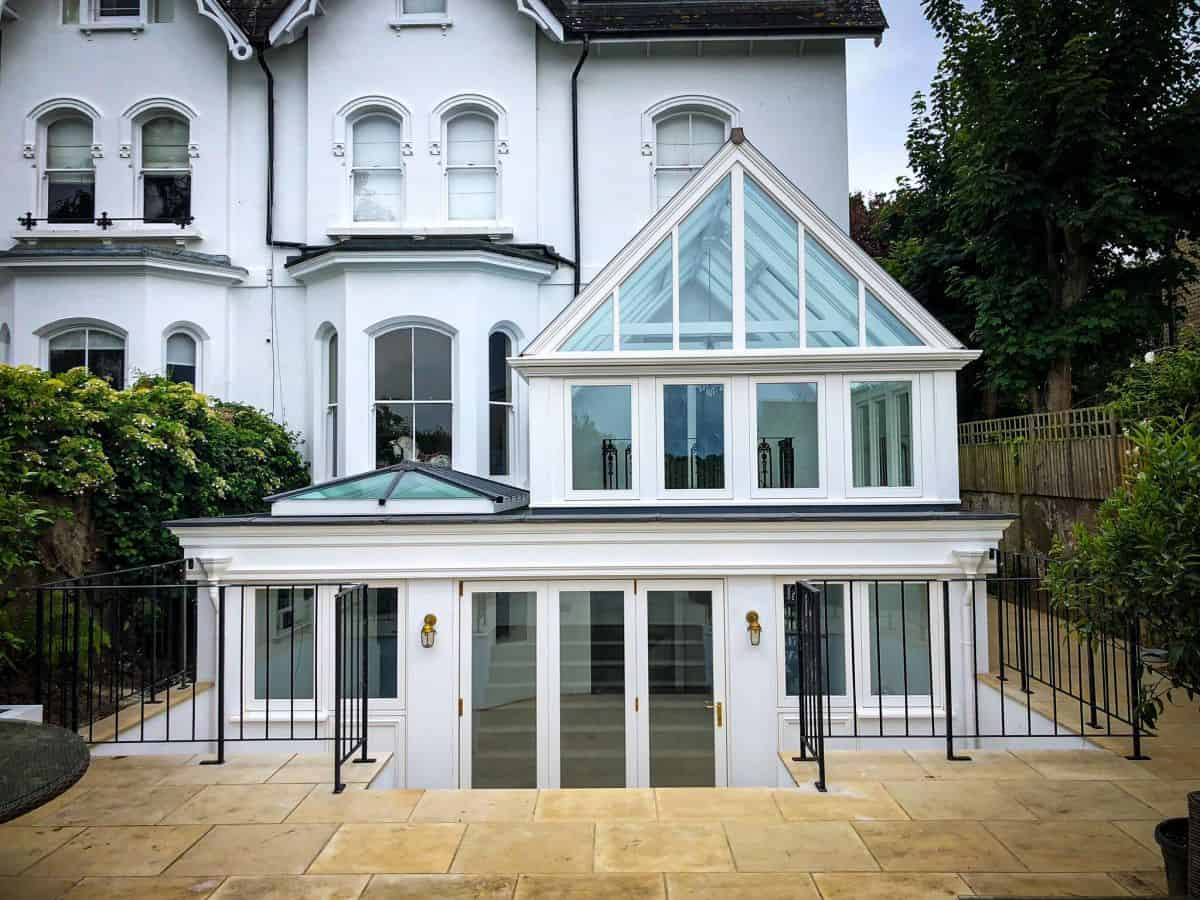 If extending your home is on your wish list and you had previously discounted a conservatory, the following examples might inspire you to think again.
Re–Thinking the Conservatory
Imagine creating a beautifully light, spacious and airy living room – a space that you can relax, entertain or spend some time with your family.
Add French doors to allow convenient access to the outside and include full height glazing to maximise the flow of light throughout the day.
Engage a bespoke designer to incorporate a wide range of classic conservatory design features, which will complement the architecture of your existing home.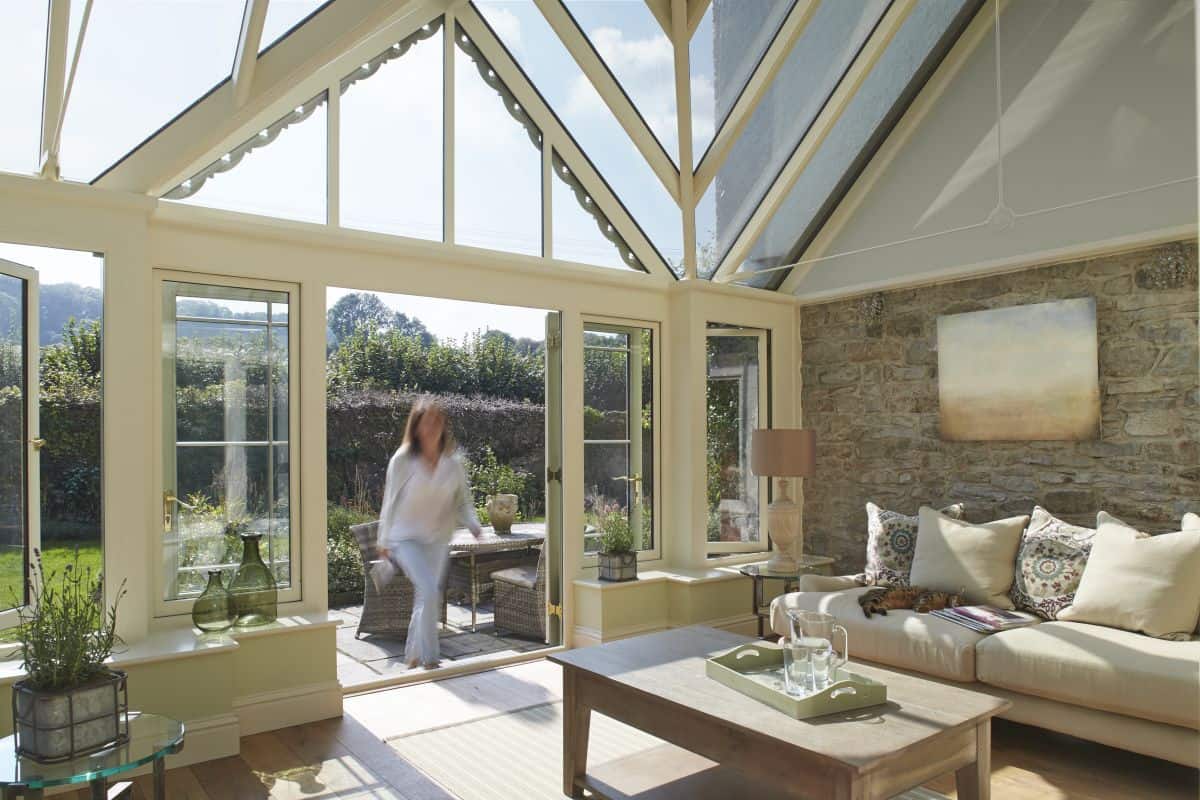 Gable End Conservatory
A conservatory with a feature gable (sometimes known as a gable end conservatory) is one way of maximising the feeling of space, with the extended ceiling heights.
More than anything, including a roof gable within the design of a conservatory provides a stylish alternative to the more traditional lean-to conservatory.
Often chosen to echo the features of the host building, bespoke conservatories can be designed with one or more gables.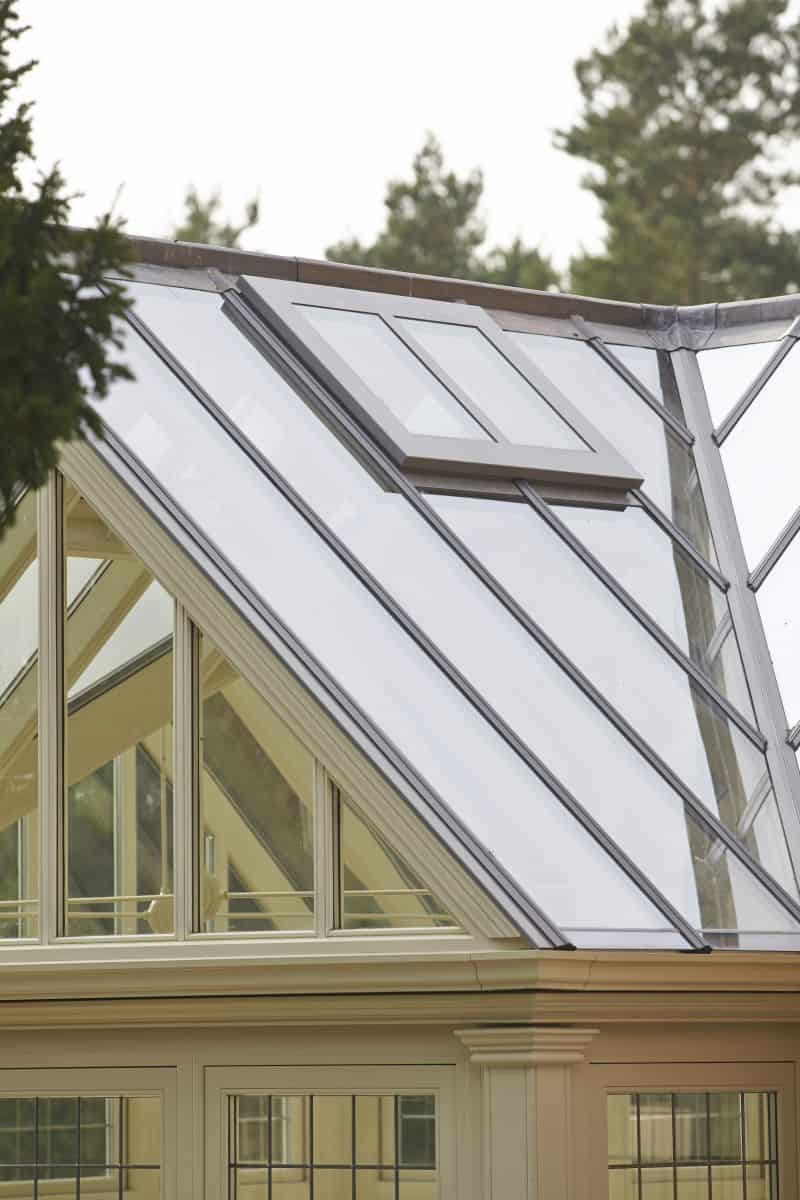 Trend Alert: Biophilic Design
A conservatory is the ideal environment to exhibit a 'biophilic' interior design scheme. Biophilic design is a concept in construction which concerns bringing the inside of a building closer to nature and all things natural.
The interior of a conservatory is also perfect to indulge in another home trend of recent years – namely the desire to include more adventurous indoor plants inside the home.
In this example below, located in Surrey, this wooden conservatory was painted in the subtle shade of Flagstone (from our own unique colour palette), which provides a flawless backdrop for this idyllic green sanctuary.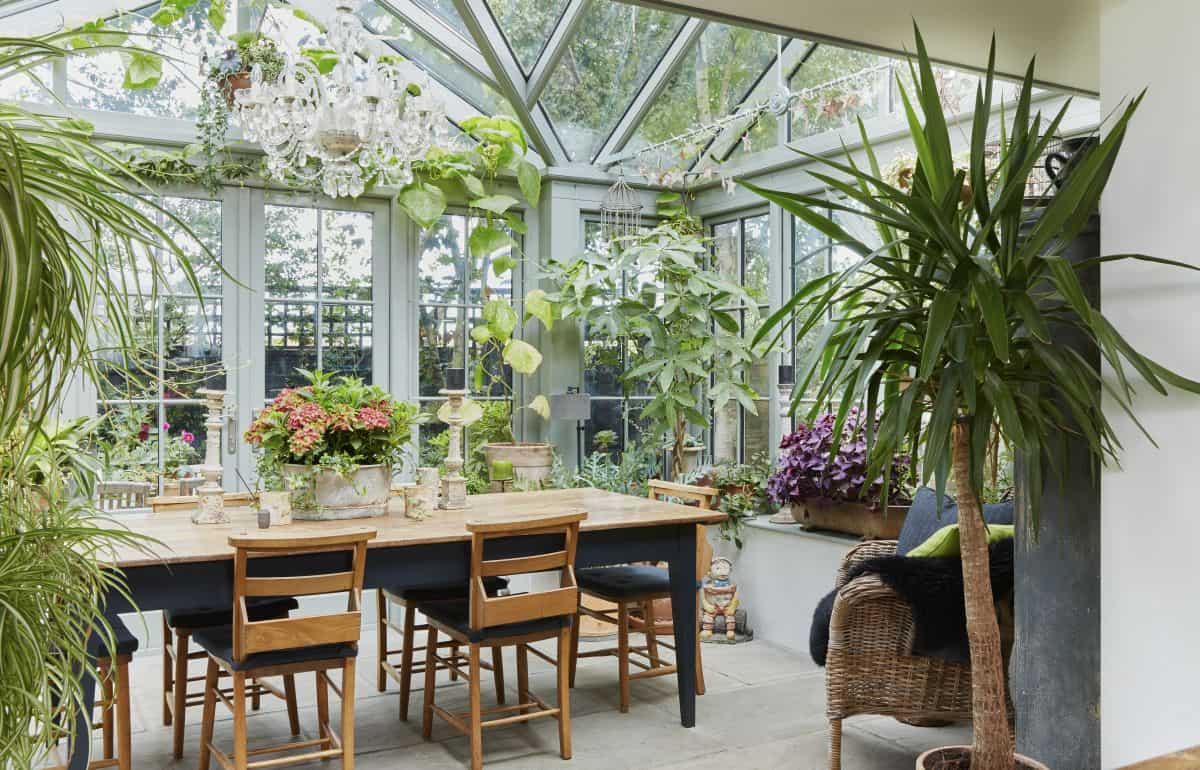 Classic Lean–To Design
Finally, no round up of conservatory design could be complete without including the simplicity of a classic lean-to design (shown below).
The pared back nature of this style of conservatory means it really can be designed to suit any style of property and almost any available space.
Whilst versatility is a common characteristic, there is no reduction in interior style and comfort – this is another example of a conservatory that is ready to be enjoyed, whatever the time of year.
A classic conservatory design will most likely include a fully glazed roof, generous proportions of window glazing, French doors and an abundant flow of natural light and ventilation.
If these examples are starting to make you re-think your perception of a conservatory, take a look at some more examples of inspirational conservatory design via our Case Studies.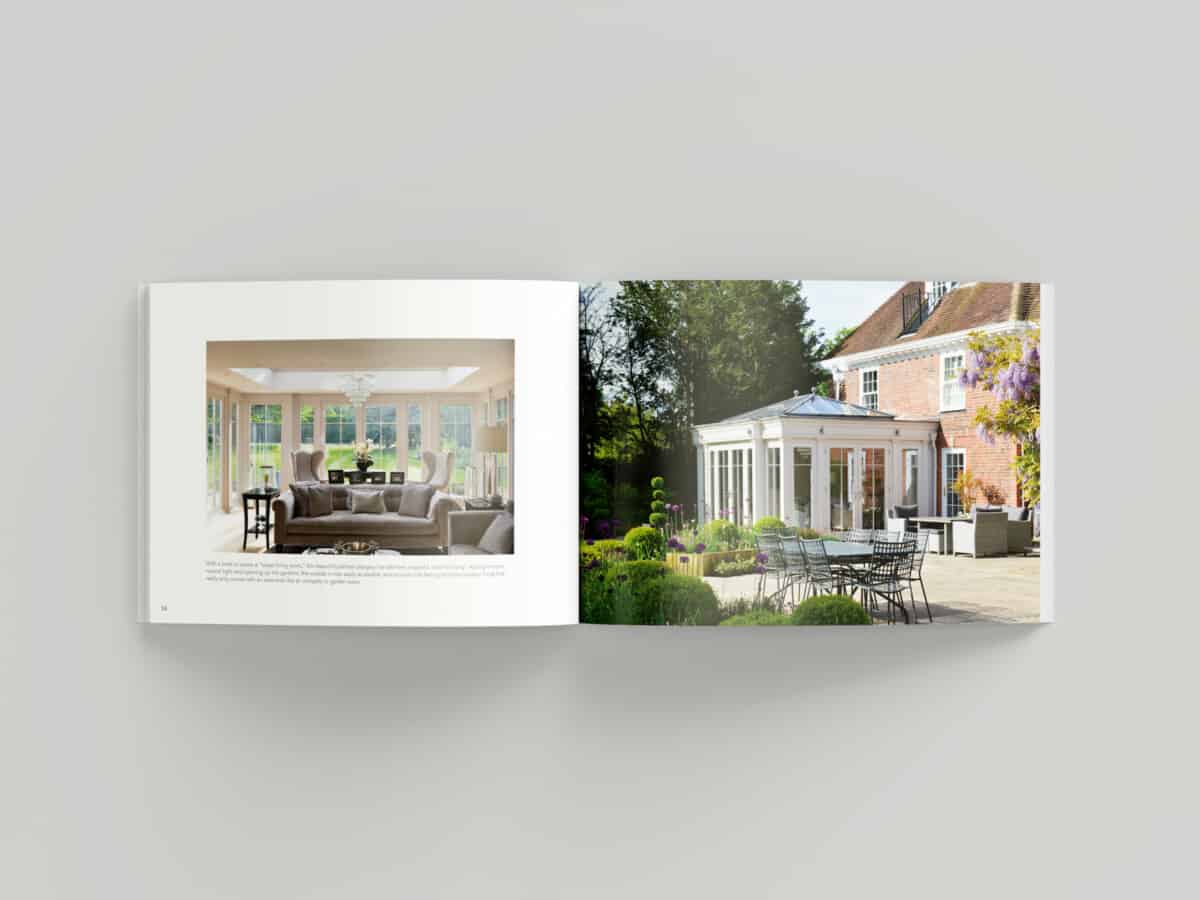 Request Our Latest Brochure
Full of inspirational designs to captivate your imagination.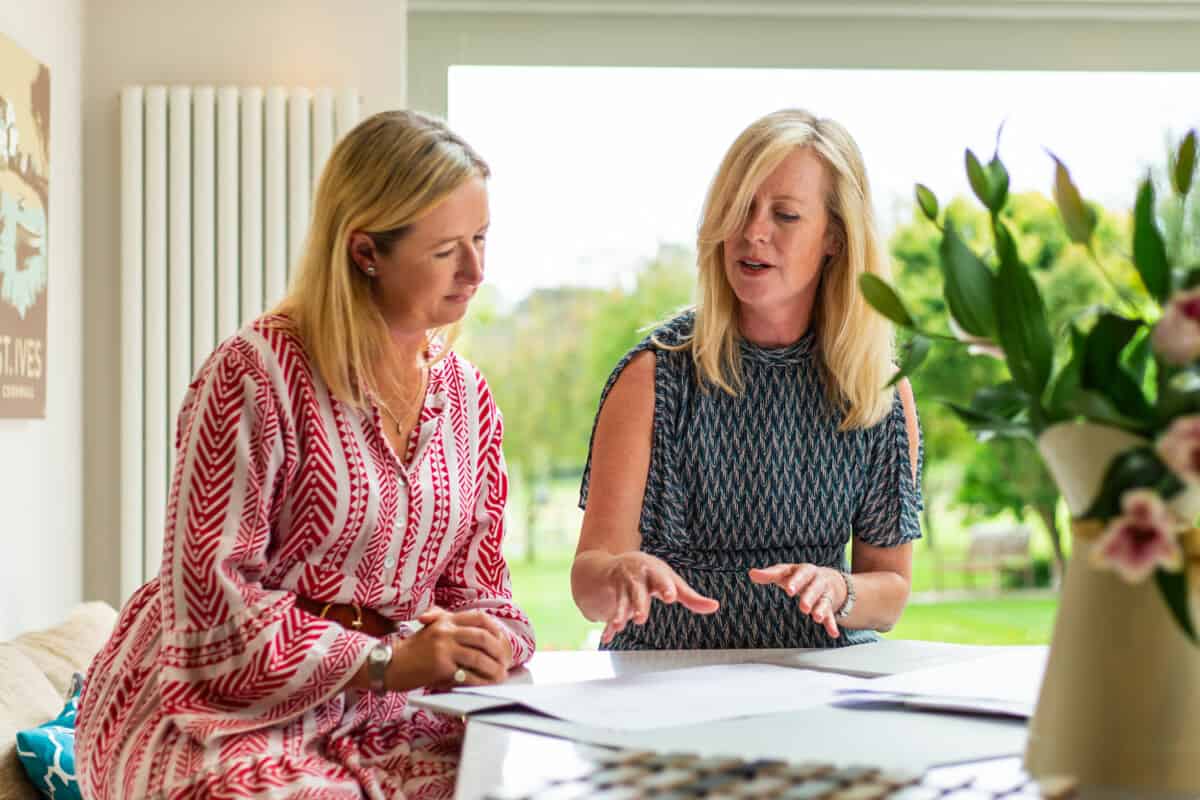 Book a Design Consultation
Our team of expert designers look forward to inspiring you.