A number of factors over recent years, from warmer climate to a desire to entertain at home during the pandemic, has helped to drive the increasing tendency for outdoor dining, something which continues to underline how our gardens are becoming an extension of our homes.
Reviewing what was prominently displayed at the annual RHS Chelsea Flower Show is always a strong indicator of future trends and it was telling just how many of the show gardens at Chelsea this year featured outdoor dining spaces.
With these outdoor living spaces become an increasingly important extension of our indoor living rooms, the connection between the two is now more significant than ever. The most successful design schemes seek to blend the comfort of our homes with the beauty of nature, transforming our gardens into versatile areas for relaxation, entertainment, and culinary experiences.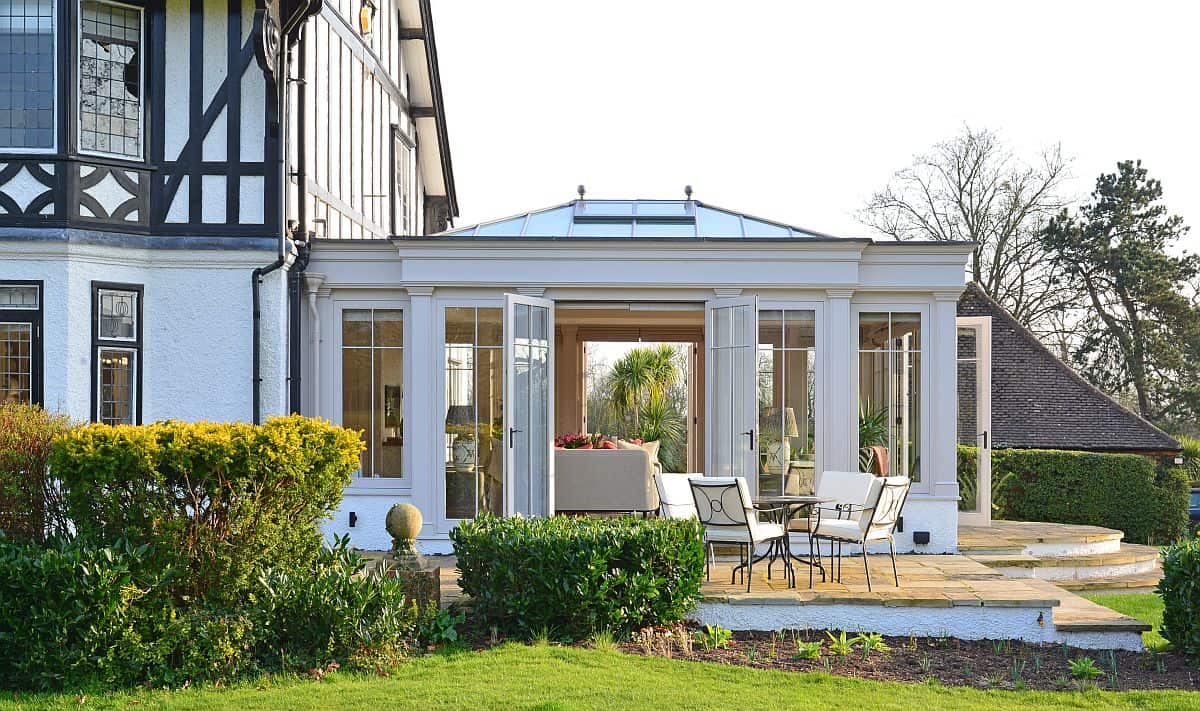 Embracing Nature
In an age of fast-paced living and technological immersion, our desire for a connection with nature has become stronger than ever. Outdoor dining offers a perfect opportunity to escape the confines of indoor spaces and immerse ourselves in the beauty and calm of the outdoors.
Whether it's breakfast on the patio, a family barbecue, or a romantic dinner under the stars, we are rediscovering the joys of dining al fresco – or, at least, from the comfort of a garden room, which offers the perfect compromise between indoors and out.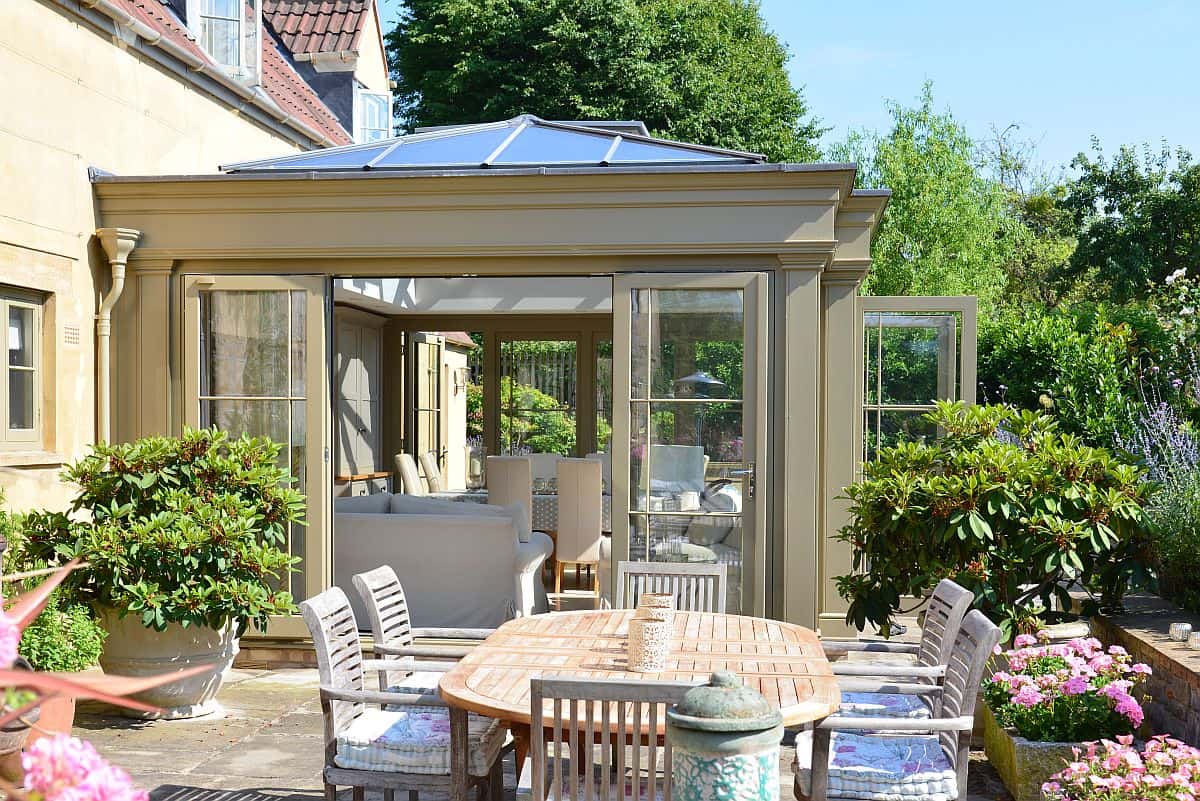 Creating Inviting Outdoor Spaces
With the growing emphasis on outdoor dining, homeowners have started to pay more attention to the design and functionality of their gardens. Transforming these spaces into inviting extensions of our homes involves careful planning and consideration.
Today, gardens are equipped with comfortable seating areas, weather-resistant furniture, and ambient lighting to enhance the dining experience. From cosy nooks to expansive outdoor kitchens, the possibilities for creating a personalised outdoor haven are endless.
The transition from inside to out is fundamental to creating an inviting outdoors space, with an orangery combined with bi-fold doors one proven design solution.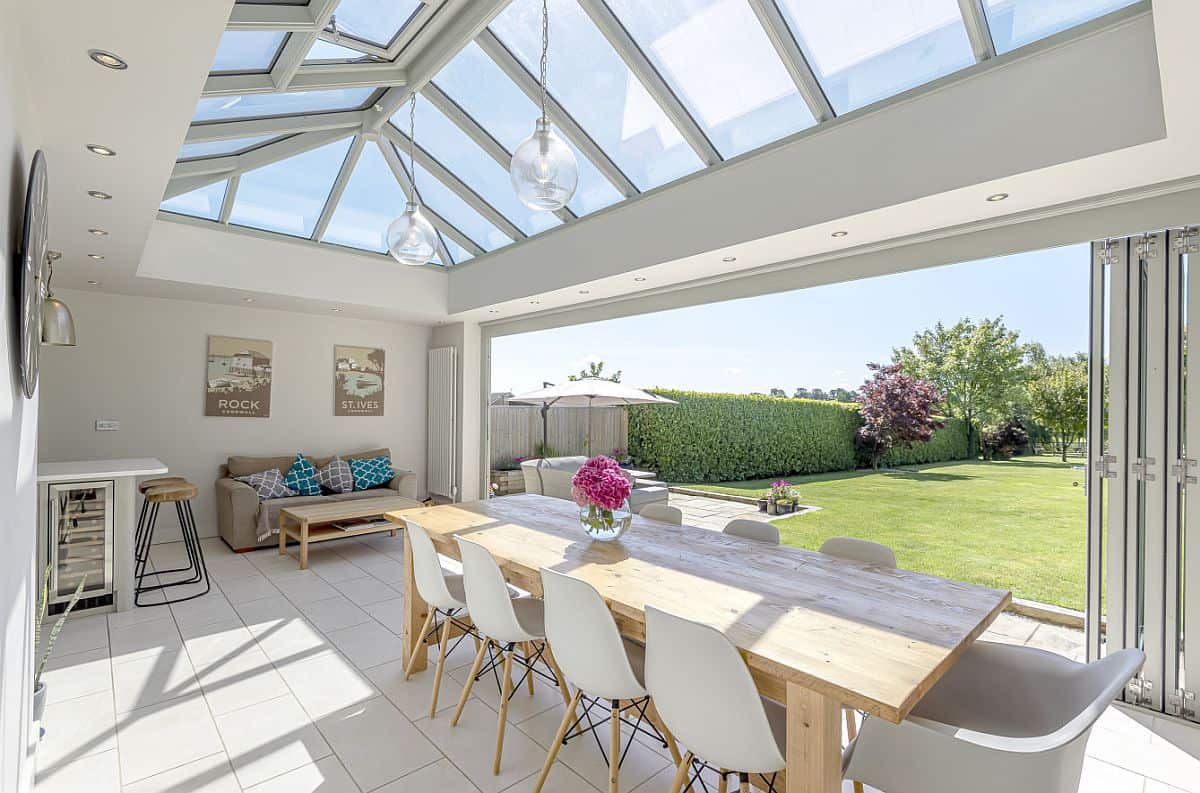 Cooking & Entertaining in our Gardens
Outdoor dining goes beyond simply enjoying a meal: to truly impress family and friends, it has become a culinary adventure. As a testament to this, outdoor kitchens have surged in popularity, complete with grills, wood-fired ovens, and even sinks and refrigerators.
The act of preparing food in the open air adds a unique flavour to our dining experiences and encourages us to explore new cooking techniques. Hosting gatherings with friends and family has also taken on a new dimension, with gardens becoming the preferred venue for entertaining.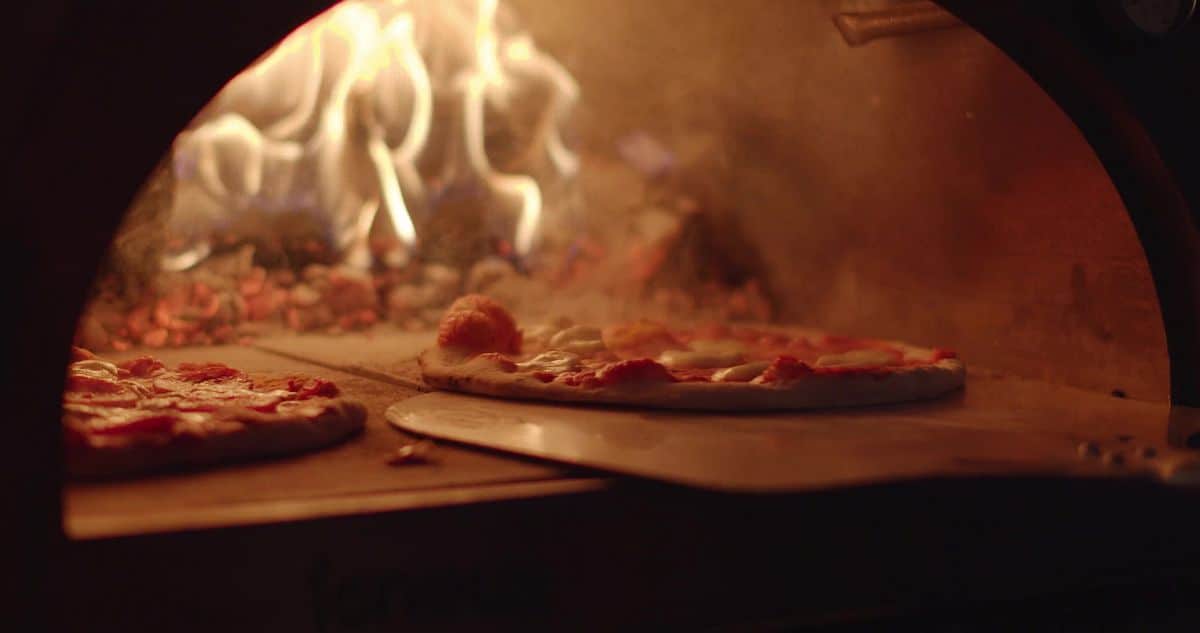 Well–Being Benefits
Spending time outdoors has numerous health benefits, both physical and mental. Outdoor dining allows us to soak up vitamin D from sunlight, boosting our mood and promoting overall well-being.
In addition, the fresh air and natural surroundings have a calming effect, reducing stress and anxiety. In an era when self-care and wellness are gaining prominence, our gardens provide an accessible retreat for relaxation and rejuvenation.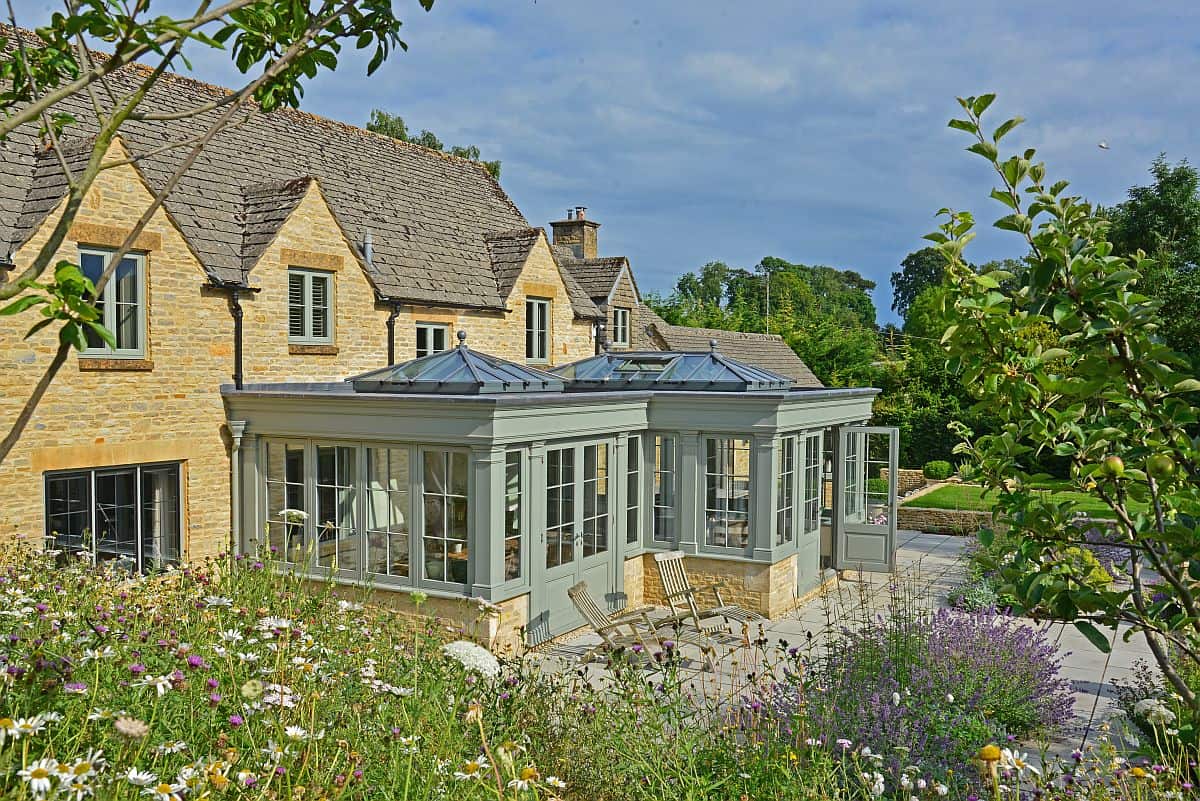 Sustainable Spaces
As environmental concerns grow, many individuals are adopting sustainable practices in their outdoor spaces. Gardens are being designed to support local ecosystems, incorporating native plants and providing habitats for pollinators.
Additionally, the trend of growing herbs, fruits, and vegetables in our gardens aligns with a desire for organic, locally sourced produce, reducing our carbon footprint and promoting healthier eating habits.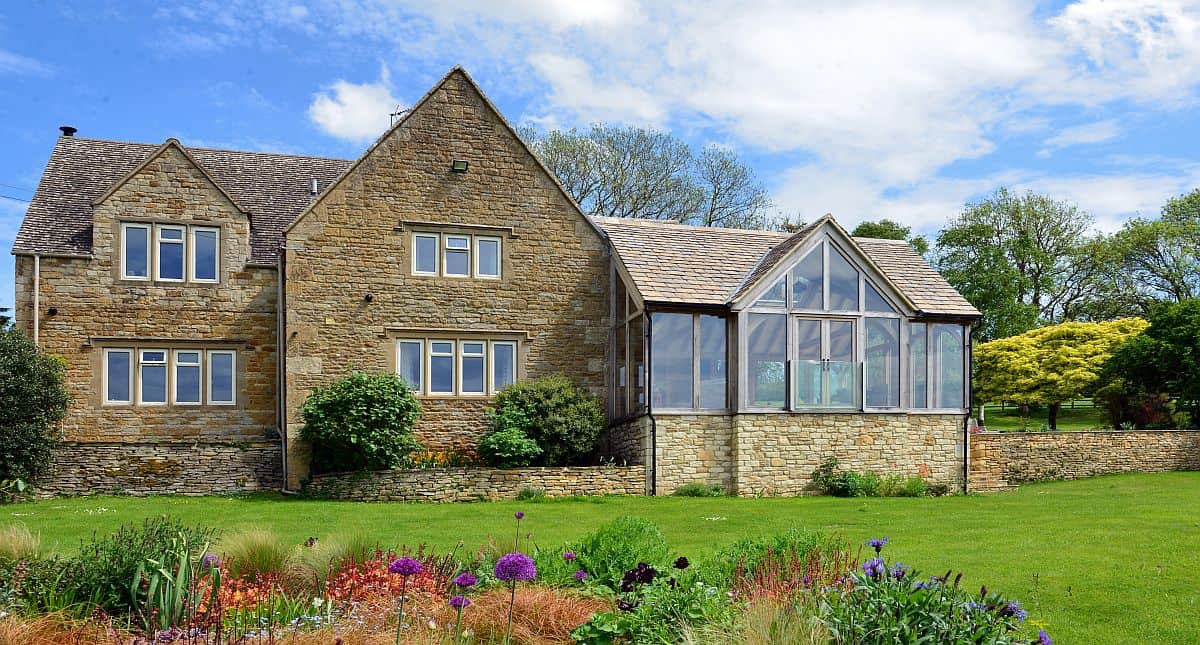 The growing trend of outdoor dining reflects our changing habits and the recognition of our gardens as extensions of our homes.
By embracing nature, designing inviting spaces, exploring new culinary adventures, and prioritising well-being, we are transforming our outdoor areas into versatile and cherished living spaces.
As we continue to appreciate the beauty and benefits of al fresco dining, the trend is likely to endure, fostering a deeper connection between our indoor and outdoor environments.
Gardens are no longer just patches of green and nature: they have certainly evolved into extensions of our living spaces.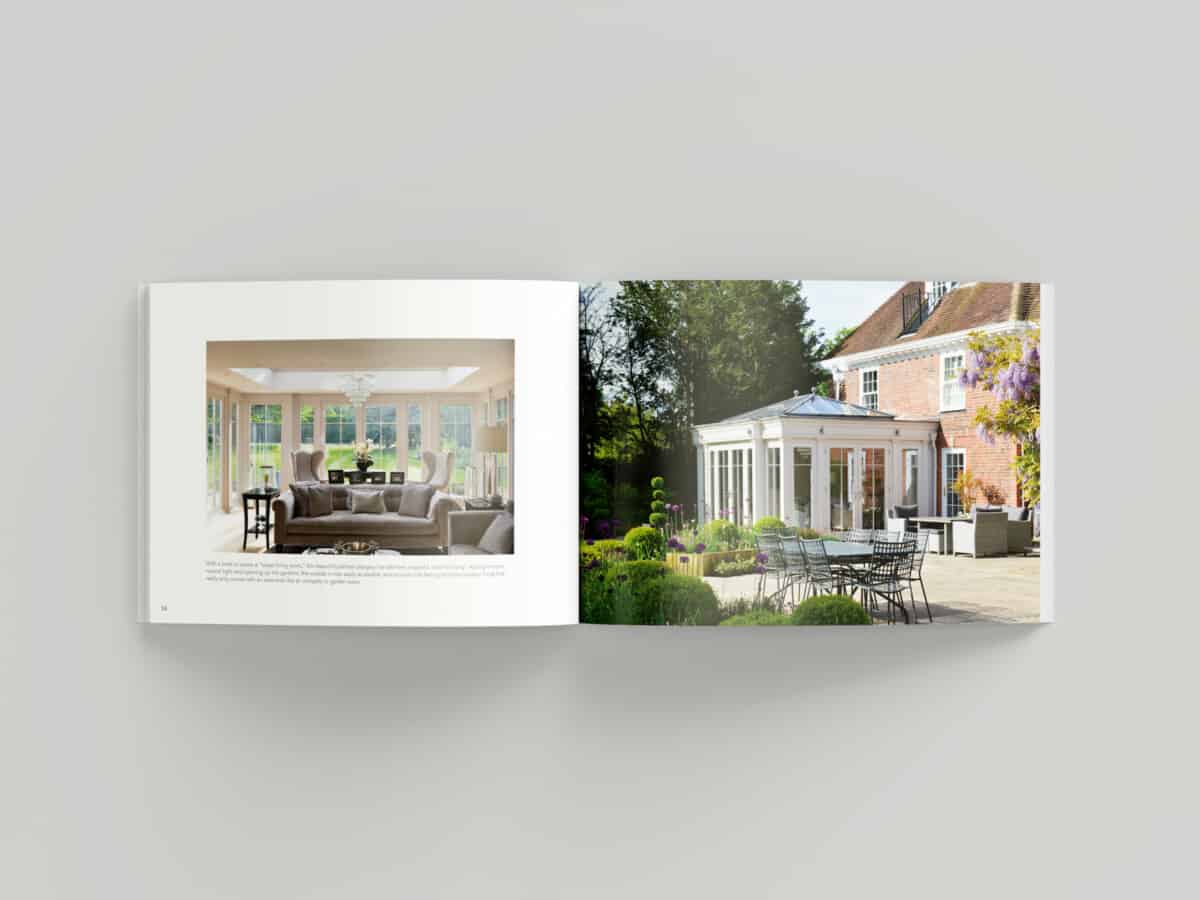 Request Our Latest Brochure
Full of inspirational designs to captivate your imagination.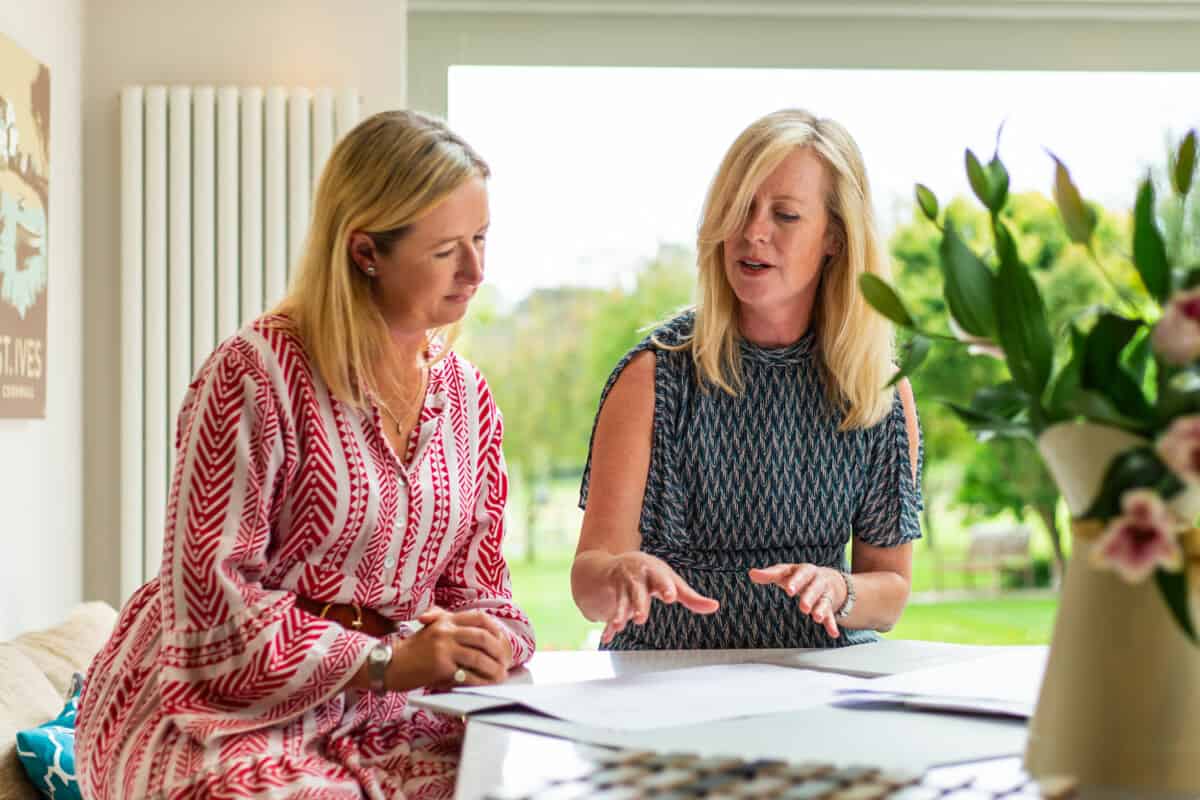 Book a Design Consultation
Our team of expert designers look forward to inspiring you.