This contemporary orangery design is another good example of our work blending seamlessly with the client's existing home.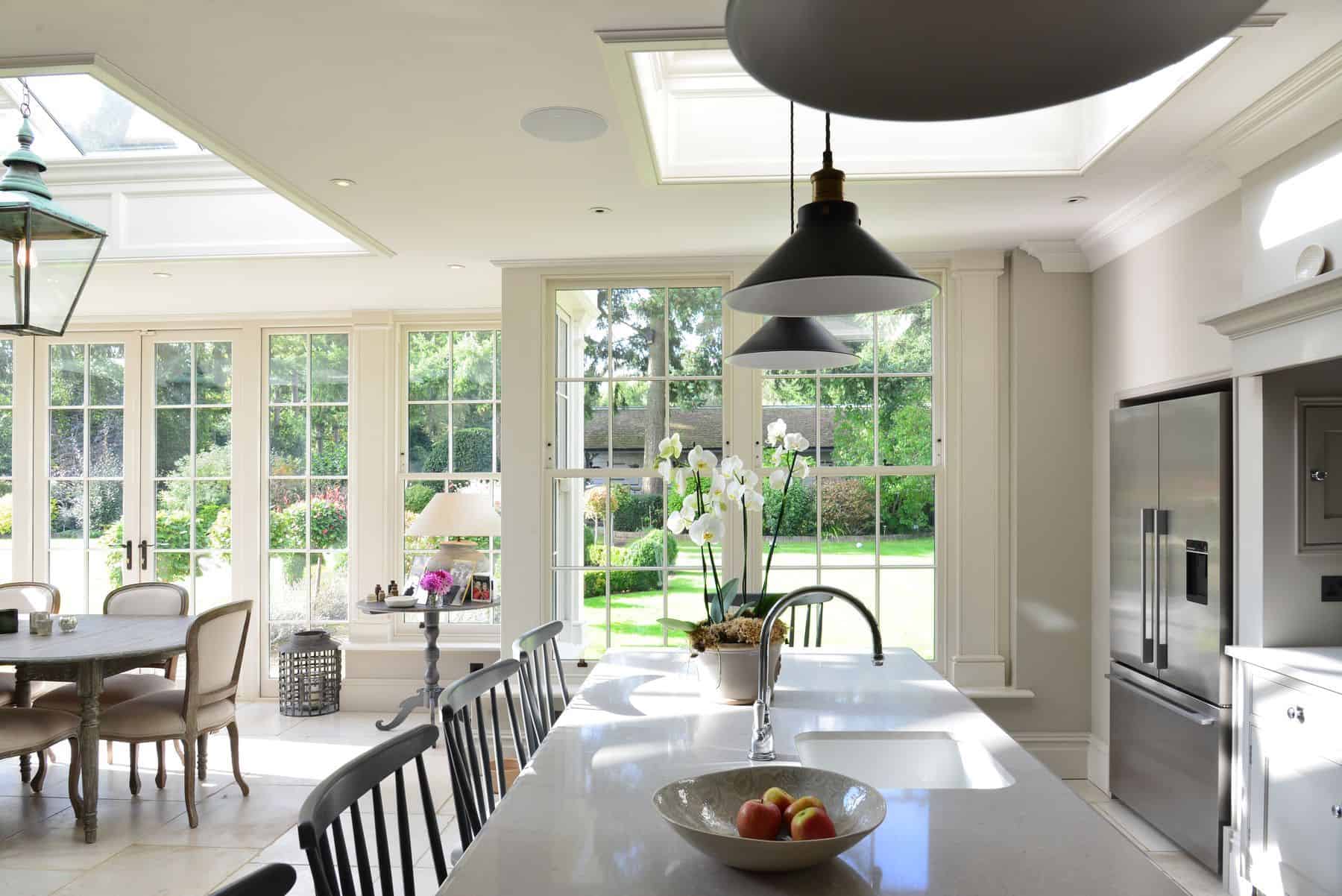 One of the remarks that we most like to hear our customers report is that their new orangery is their favourite room in their home and the place they spend the most time.
This project can certainly be said to have had a transformative effect!
A large, contemporary looking orangery finished in the same paint colour as the rest of the client's property, this building extension works perfectly in harmony with its surroundings.
CONTEMPORARY ORANGERY Extension
Adding a significant amount of additional floor space, part of the structure was designed to incorporate a kitchen extension. The painted kitchen is well proportioned to allow a peninsular area for coffee or informal dining. One feature we particularly like is the large mirror backsplash behind the cooker, which adds to the light and spacious feeling of this orangery.
The large full height windows and doors at the front of the structure provide easy access and great views into the client's stunning gardens.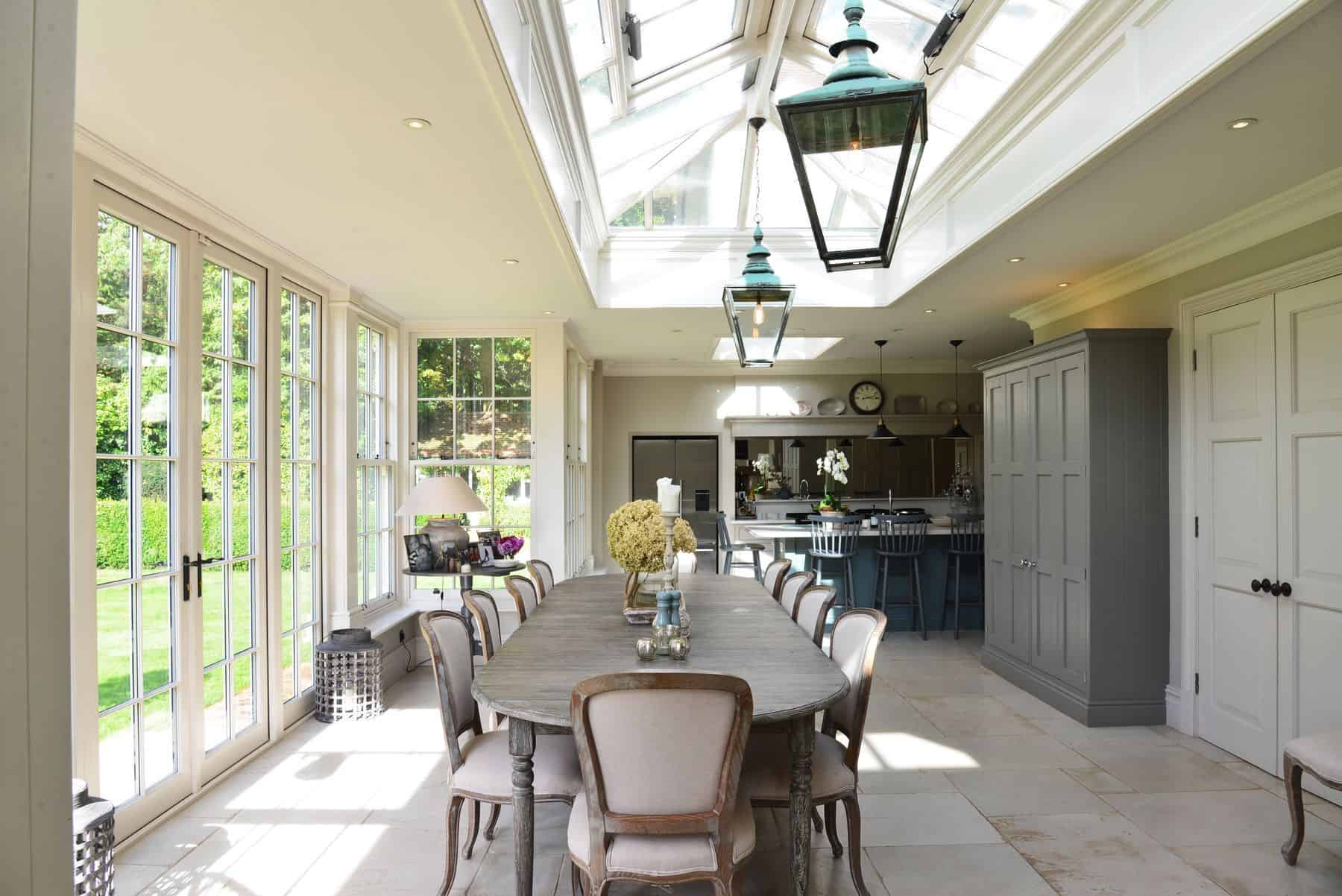 In conjunction with the triple lantern roofs, there is an abundance of natural light throughout this orangery. Alongside the client's impeccable taste in modern interiors, this has created a stunning new living space.
This is the latest successful David Salisbury project that Simon Martin, our most experienced designer, has worked on. As an award-winning designer with almost 20 years of designing projects that include the St Michael's Manor Hotel in St Albans and the Phyllis Court orangery in Henley-on-Thames, Simon took immense personal satisfaction in this particular job.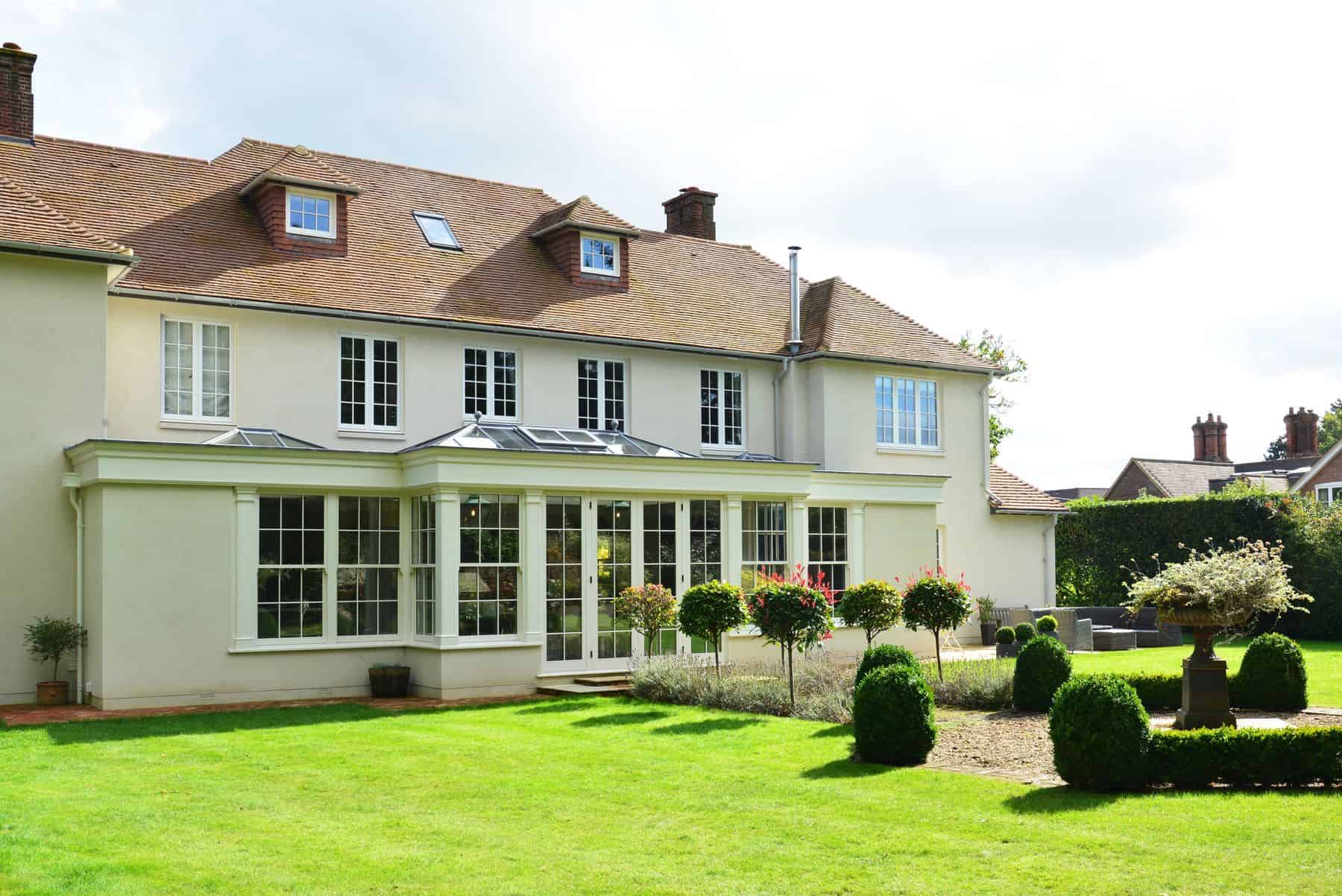 He commented: "I still get as much excitement at seeing the end result of one of my designs, as I did when I started working for David Salisbury. It doesn't matter about the size and scale of the project – large or small, for me, it is all about creating a beautiful new living space and one that the client will enjoy for their lifetime."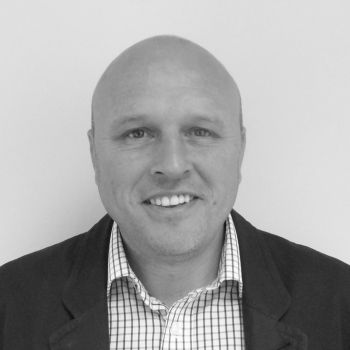 Designer

​,

David Salisbury
Simon Martin
Simon has seen many changes in our market place and has a wealth of experience in all aspects of both design and planning. He has a good rapport with clients and a natural empathy for the built environment having worked on many listed properties as well as hotels and other hospitality locations. Simon is happy to take the brief from the client, but also work closely with architects and other professionals.
Simon believes his great strength is being able to visualise the concept before he starts any drawing and after more than 30 years in the industry, he still gets a real buzz from his work.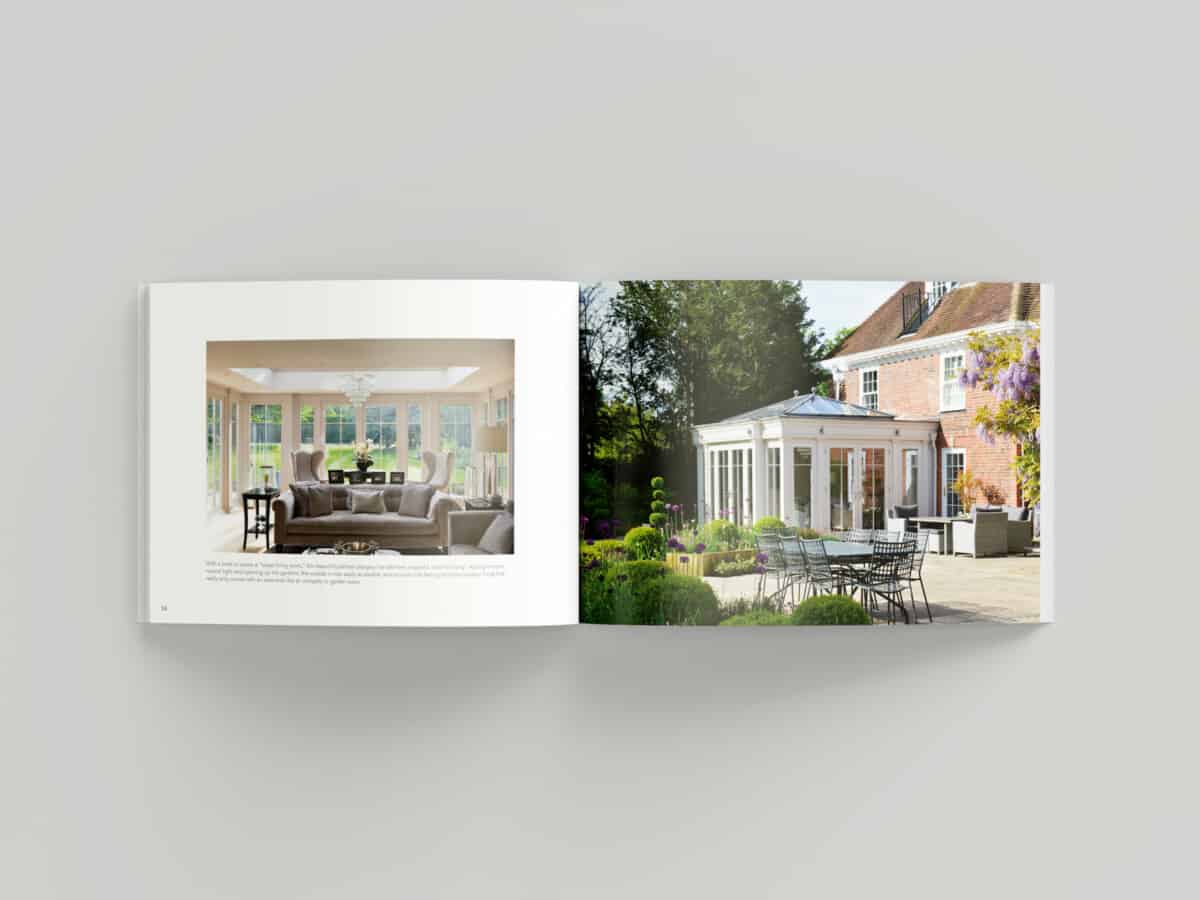 Request Our Latest Brochure
Full of inspirational designs to captivate your imagination.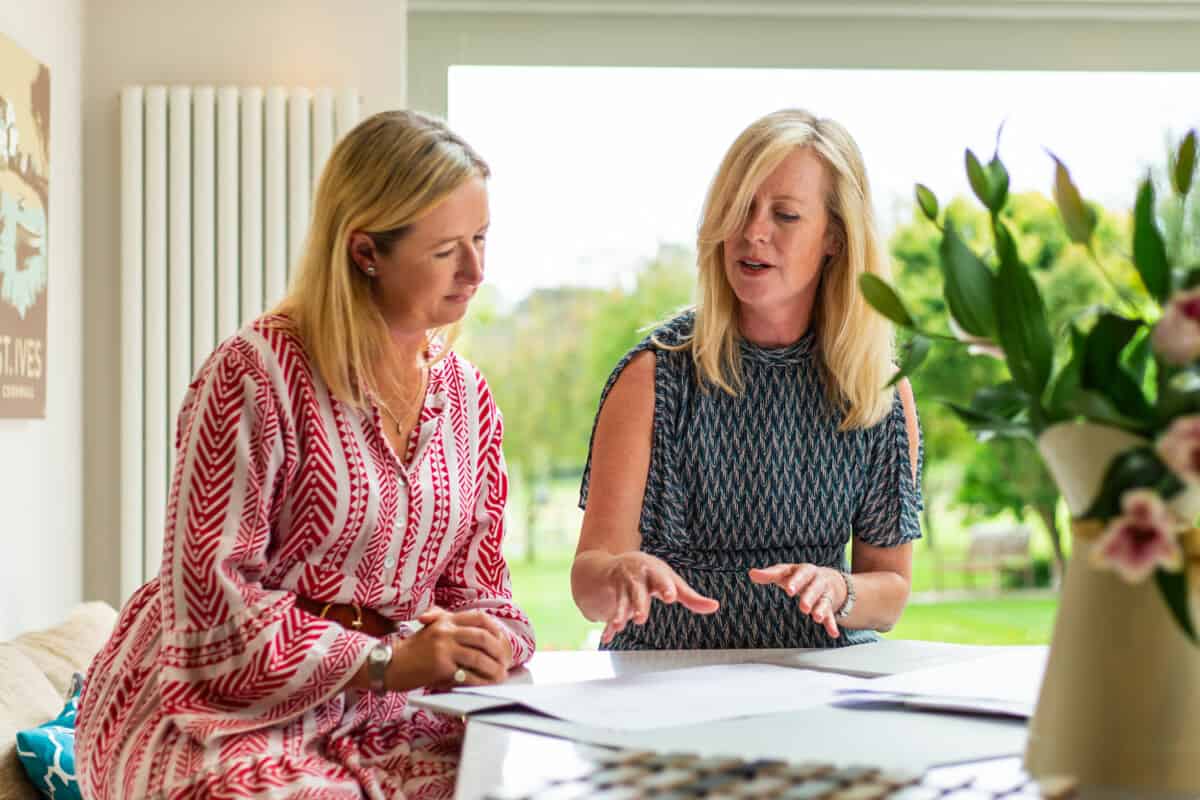 Book a Design Consultation
Our team of expert designers look forward to inspiring you.