This stunning former mill house, situated in Wiltshire, required a carefully considered extension to enhance the living space and provide views of the large mill pond and picturesque country setting.
Although not listed, the property is believed to date back to the 1820's and features some distinctive arched sash windows on the ground floor.
A bespoke timber orangery was the understandable choice to sympathetically extend this period home, but some bespoke design elements would be required to bring the overall design scheme together.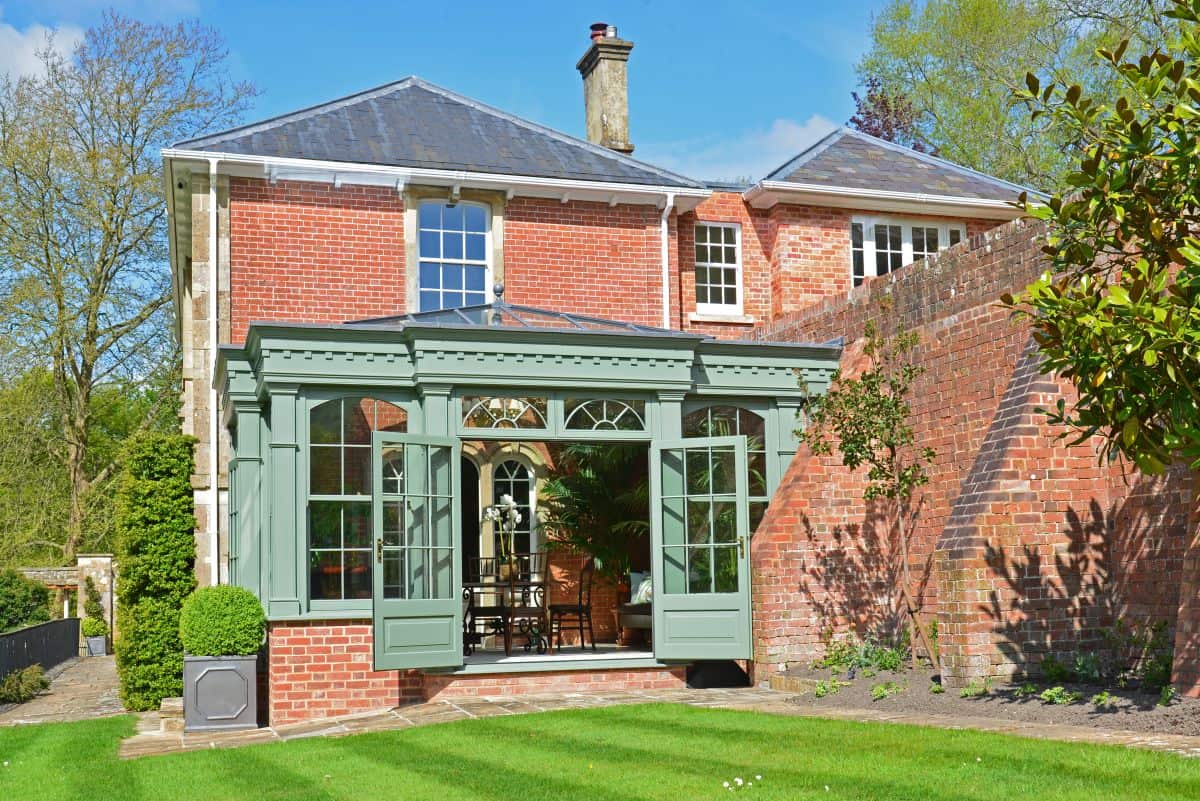 Orangery Design Brief
Simon Martin, David Salisbury's longest serving and most experienced designer, was well suited to this design brief – arriving for his initial design visit in the winter snow and immediately establishing a strong rapport with this customer (based in part on some assistance being required to tow Simon's car out of the snow on departure!).
Our customer is a developer and renovator of premium properties so already had a clear design brief in mind and discerning taste. The location for the proposed orangery was clearly established but the design had to complement the existing building.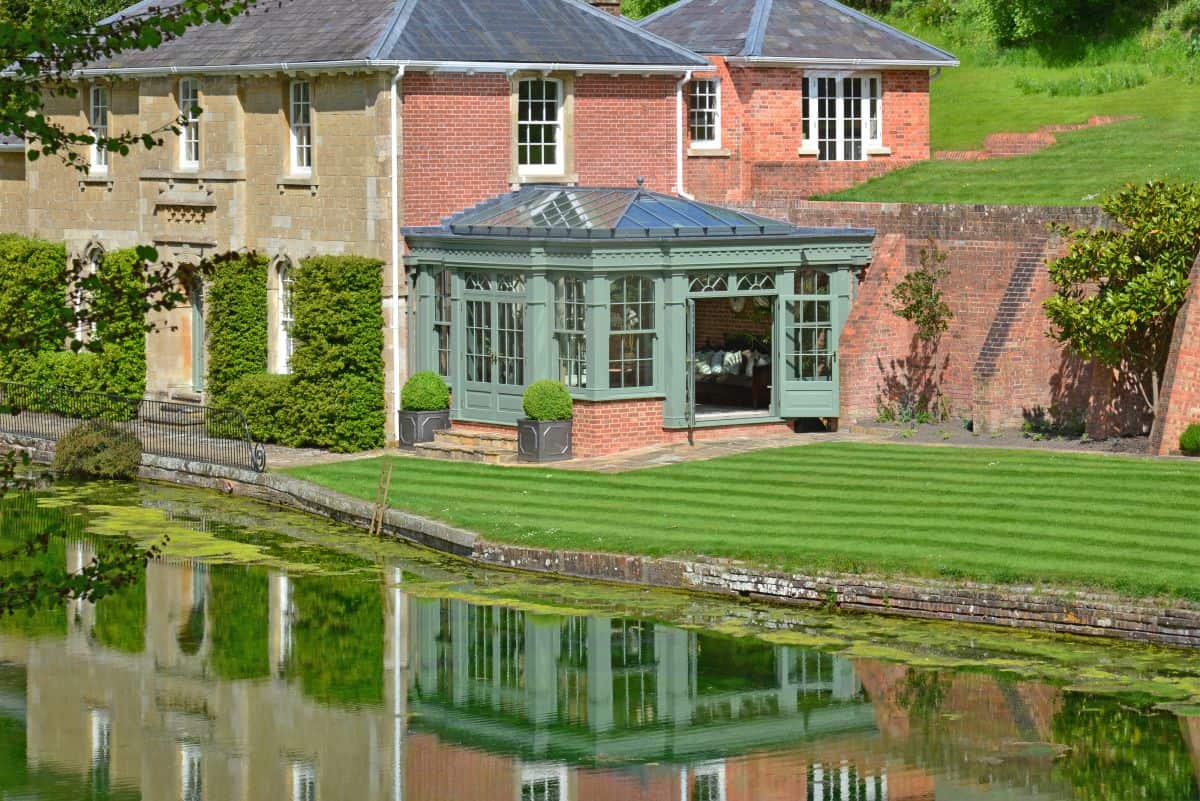 The onus was therefore on David Salisbury, as the experts in working with period properties, to design the building accordingly. The only constraint was that it had to abut an existing retaining wall, as the higher garden was approximately 3.75m higher than the lower garden.
Bespoke Orangery Design
Simon designed a bespoke orangery that was almost square in shape (measuring 5.7m wide by 5.8m deep), with an overall base area of 33.2 square metres.
Looking at the exterior, bespoke fenestration was specified to mirror the windows in the main house. In a similar vein, the castellated orangery fascia was designed to echo the original building.
Twin pairs of French doors were added to provide convenient access to the gardens and mill pond.
This combination of bespoke design features ensured that when Simon returned to present the initial design, our customer was immediately impressed and the only change was the colour of the wooden joinery (a special colour was requested) – otherwise, the orangery is exactly as per our first draft.
Design & Build
On receiving the order, our in-house planning team handled the full planning application, for convenience and peace of mind.
This bespoke orangery was completed on a supply and fit basis, which has resulted in a beautifully designed, complementary extension to this striking property in Wiltshire.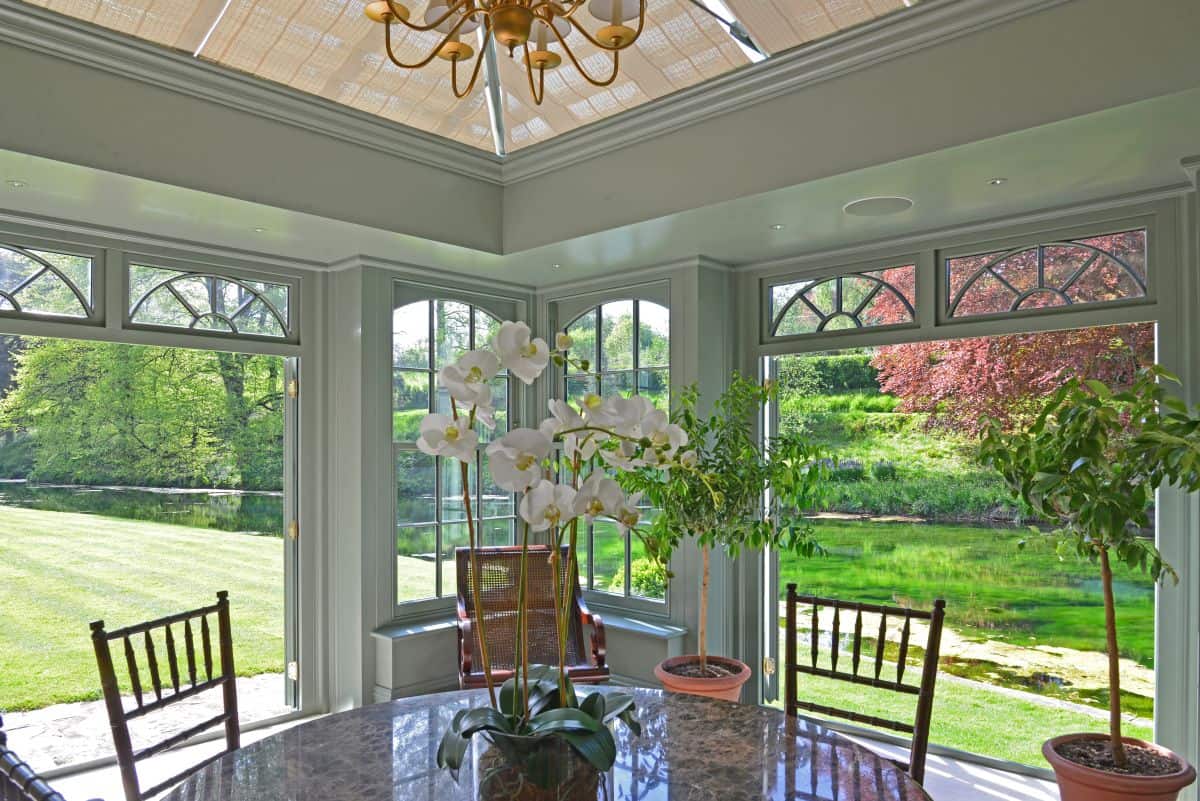 The new orangery has become the favourite room at home to appreciate what must be one of the most picturesque settings in the area.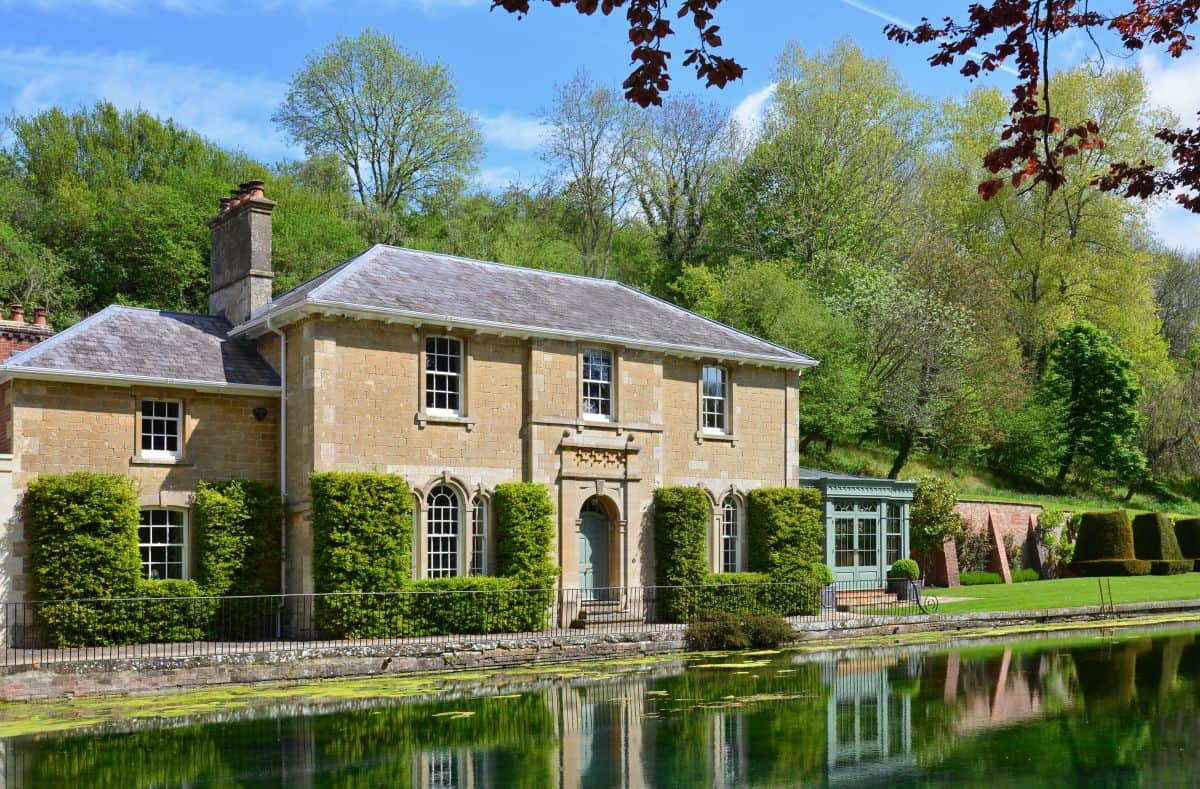 With views like these, it is understandable why a bespoke orangery was chosen to extend this stunning period home.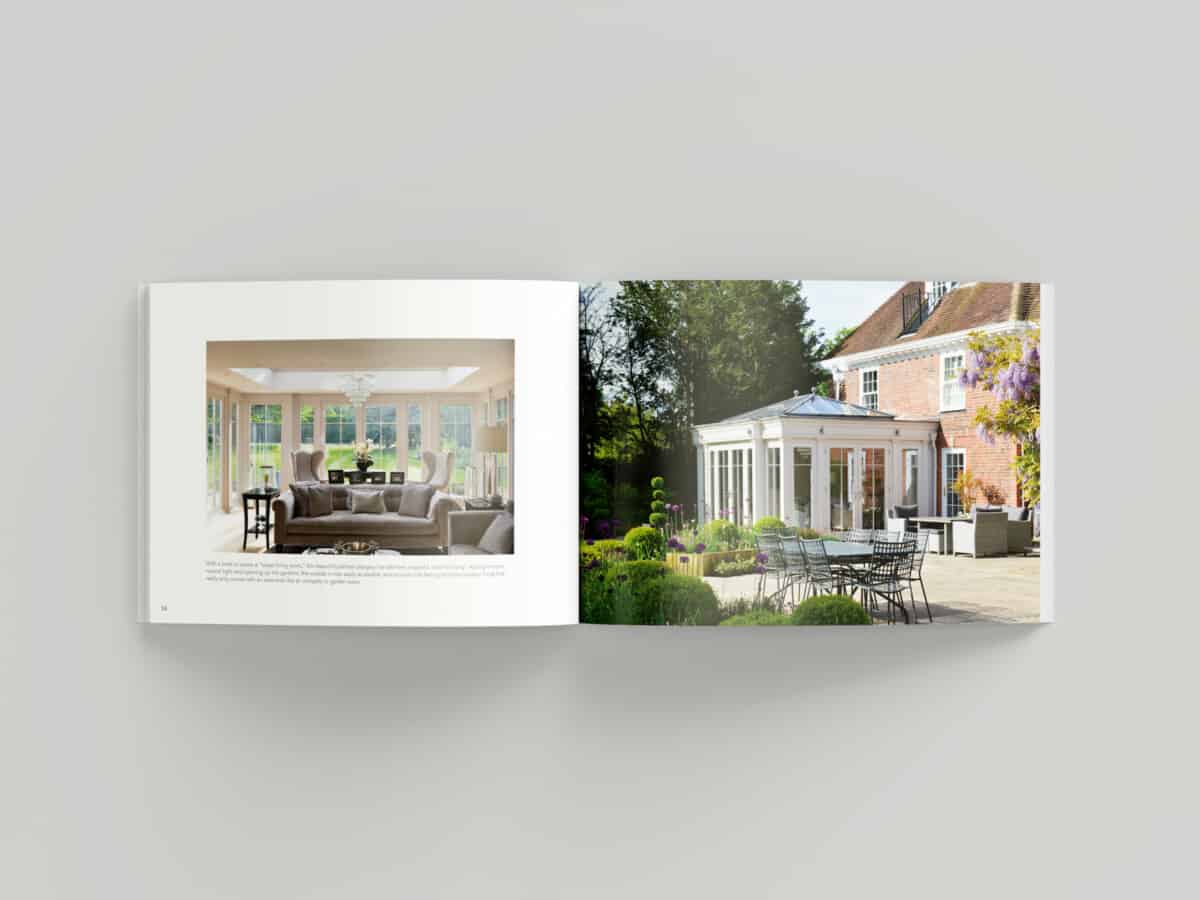 Request Our Latest Brochure
Full of inspirational designs to captivate your imagination.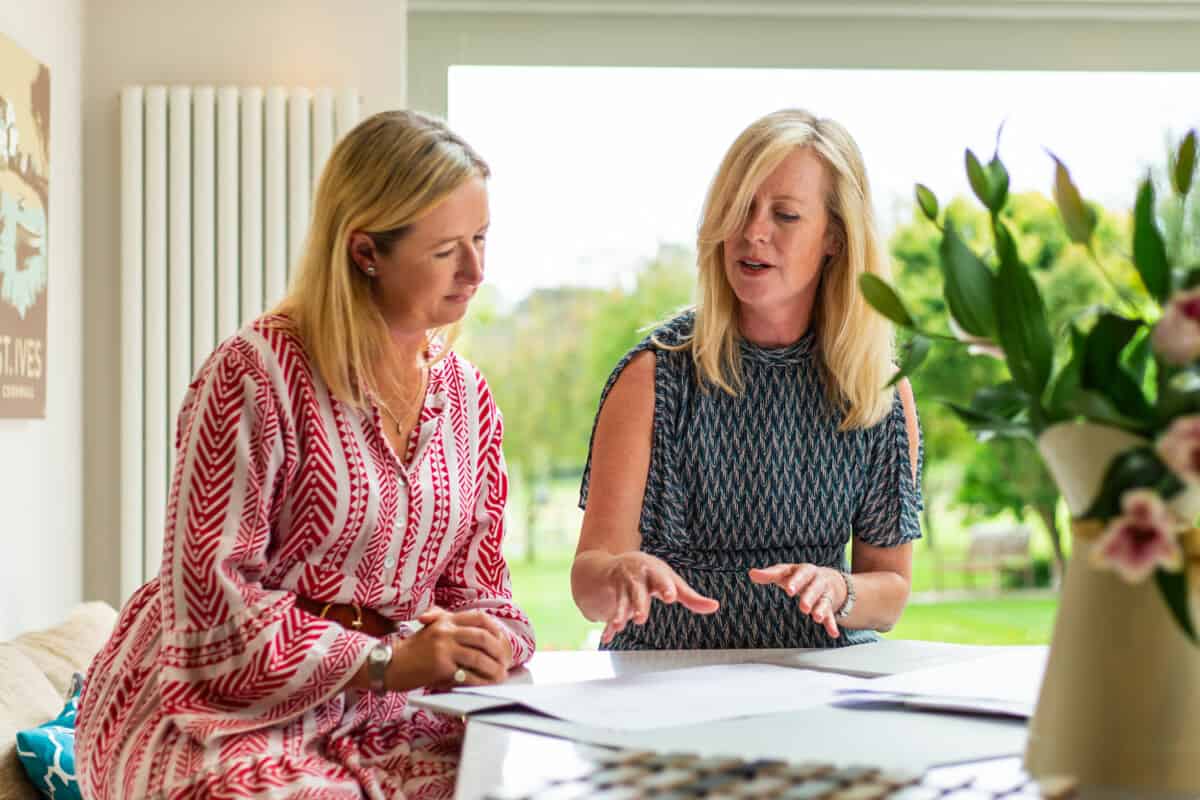 Book a Design Consultation
Our team of expert designers look forward to inspiring you.