Whilst the fundamental design ethos of putting 'quality and enjoyment first' has not changed, a number of design features of our natural oak orangery designs have evolved over the years.
From French doors to bi-fold doors, and from tiled roofs to orangery style structures, these bespoke designs have been developed and advanced over time, to ensure we are offering the finest quality oak framed extensions on the market.
Here are just a few examples of how David Salisbury's oak orangeries are designed to enhance homes and living spaces.
Mansard Tiled Roof
This oak orangery was designed with a mansard style roof, to complement the architecture of this 18th Century Grade II listed property in West Sussex, below.
The bespoke design utilised the natural 'infill' of the host building to ensure the garden room is subservient to the host property in such a way as to cause minimal disruption to the listed property.
The use of oak framing and matching bricks and roof tiles ensured this oak extension was both sympathetic and compatible with the surrounding area. Designed and built back in 2012, this timeless look is an example of a successful design formula that we have continued to adapt over the years.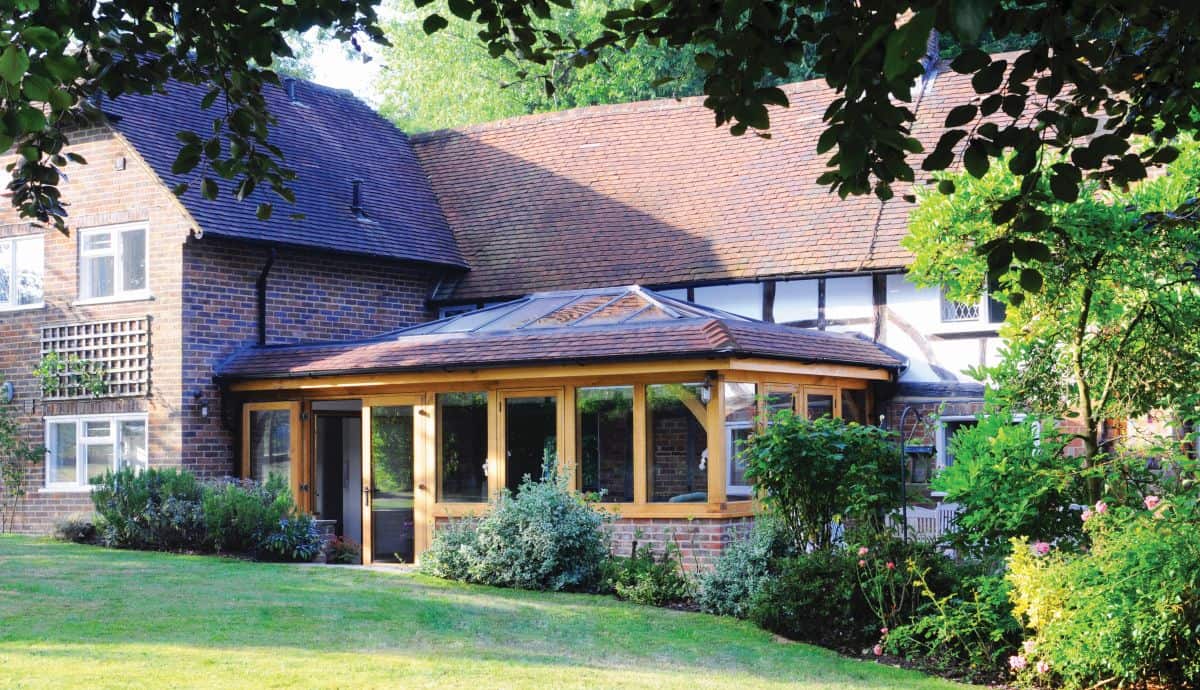 Interior Oak Framing
This oak garden room in Worcestershire was designed and built some 10 years ago but remains a good example of making the rustic beauty of natural oak the highlight of the design.
In this atmospheric photo below, the morning sunlight picks up the colour and character of the oak framing, rafters and roof trusses, creating a welcoming living space to be enjoyed all year round.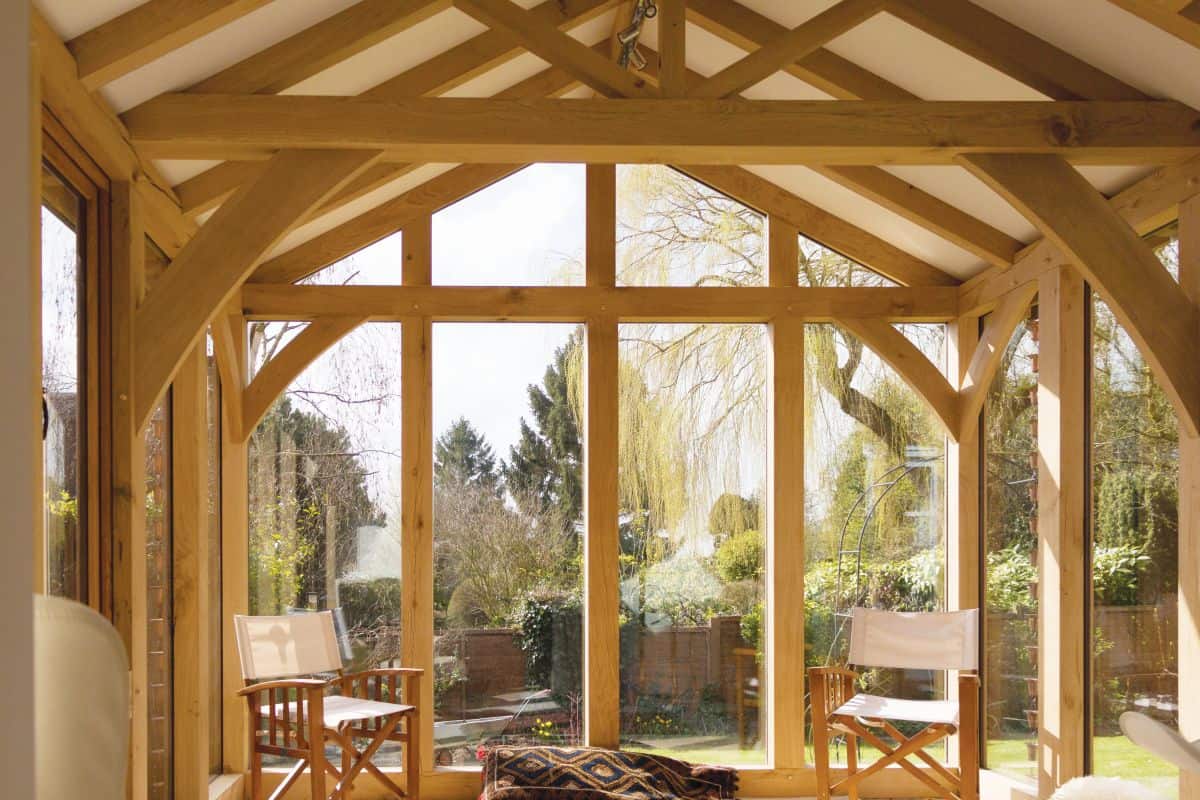 Oak Orangery with Bi–Fold Doors
In more recent years, bi-fold doors have become a staple feature of oak orangery designs.
Whether positioned on one elevation or two, as shown in the example below, or more, bi-fold doors provide complete flexibility, allowing a real sense of indoor/outdoor living.
With fully bespoke design options, different door leaf configurations can be designed to enhance almost any oak framed orangery.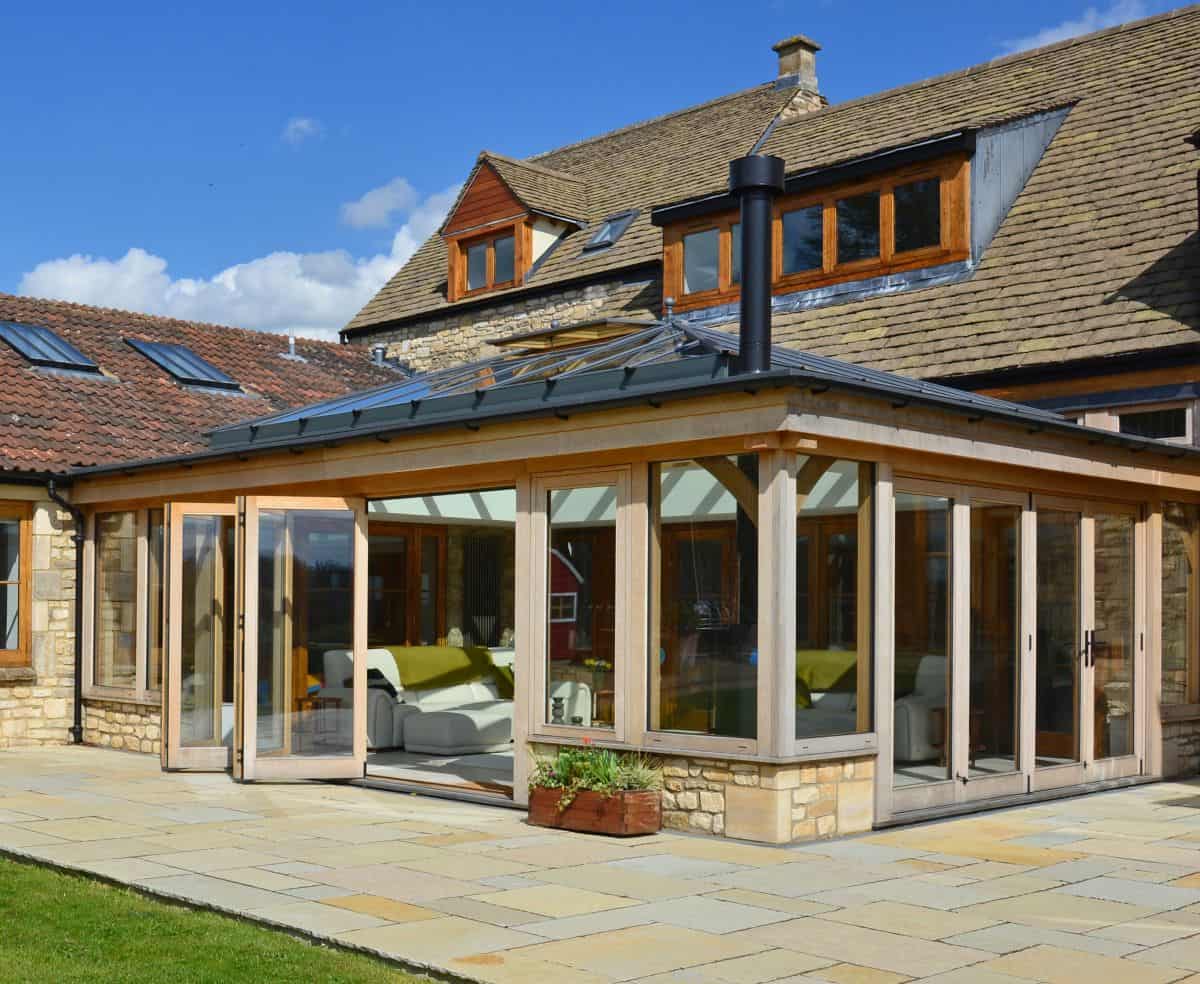 Typical Oak Orangery Features
The orangery style of extension continued to grow in popularity throughout the 2010's, creating the type of multi-functional living space that could serve as a kitchen, living room or dining room.
Taking over from the traditional style conservatory, which typically featured a fully glazed roof, the oak orangery we designed and built to enhance this Hampshire listed property below is a good example of the different roof structure.
This interior image shows the typical orangery perimeter flat roof with a central roof lantern. In this case, the oak frame stands off from the white painted walls and ceiling, creating a light-filled living room.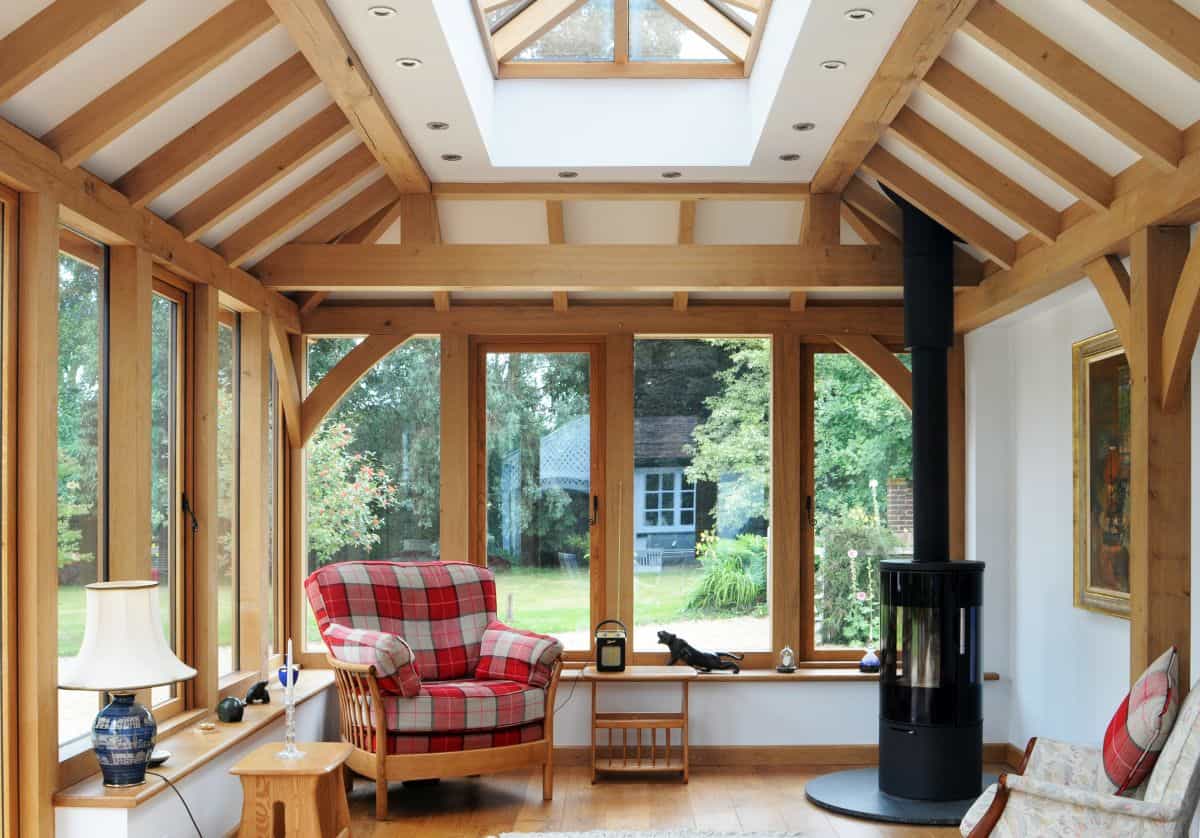 Gable Ended Garden Room
In recent years, we have seen a trend around gable ended garden rooms, like this example below in the Cotswolds.
Featuring full height windows, to capitalise on the additional ceiling space provided by the gable design, this style of oak framed garden room can be designed to perfectly echo the existing property, whilst opening up the best possible views of the surrounding area.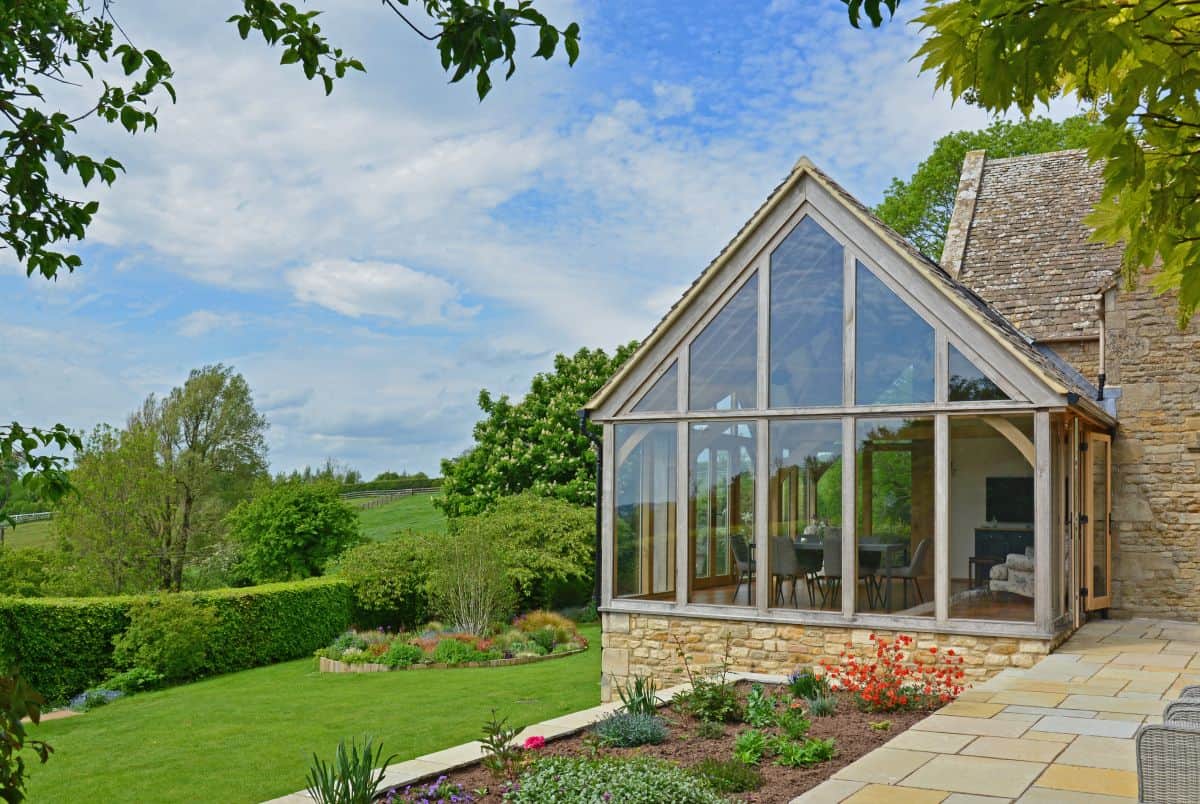 That's just a few inspirational examples of how our oak framed orangeries and garden rooms have evolved over the past decade or so.
Whatever design trends come next, with oak having been used as a material for constructing houses since medieval times here in England, we look forward to continuing to build luxury extensions using this most characterful timber.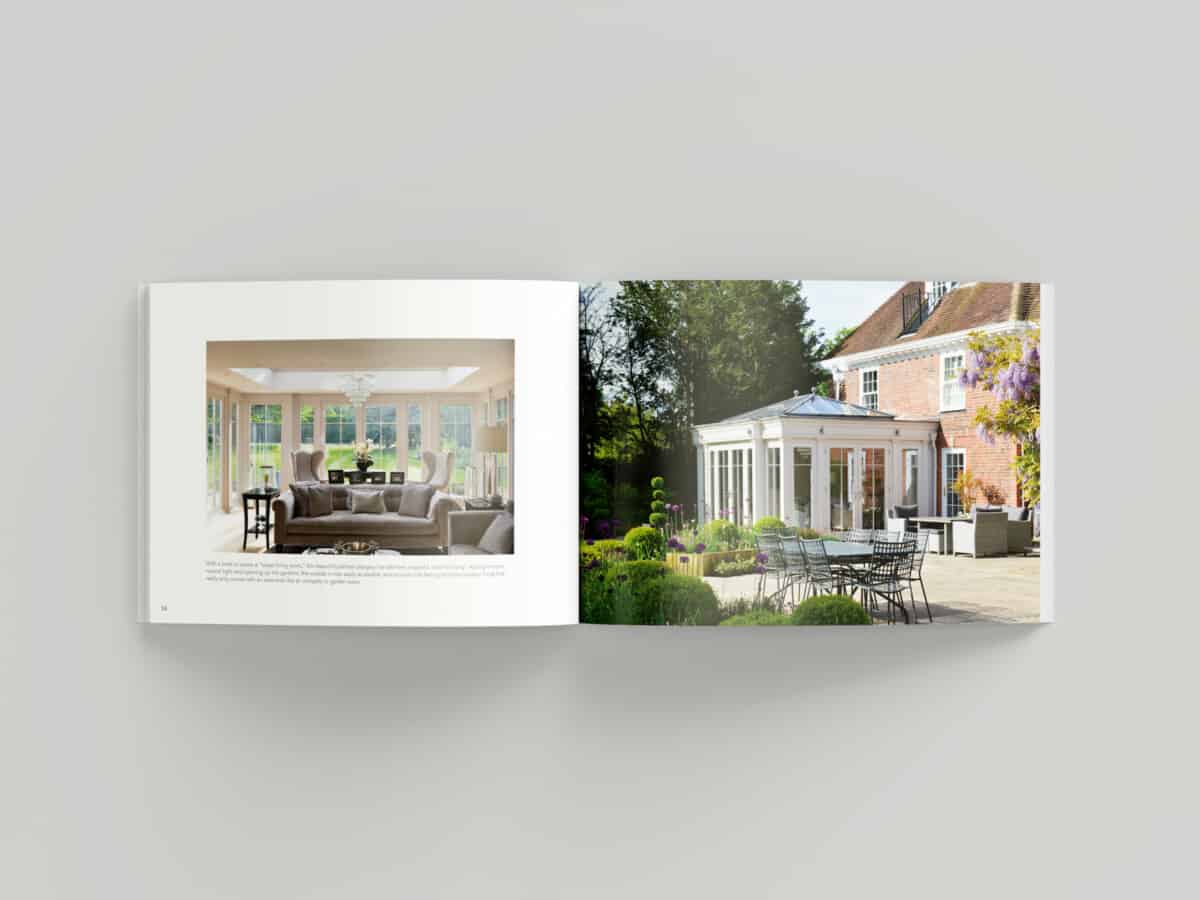 Request Our Latest Brochure
Full of inspirational designs to captivate your imagination.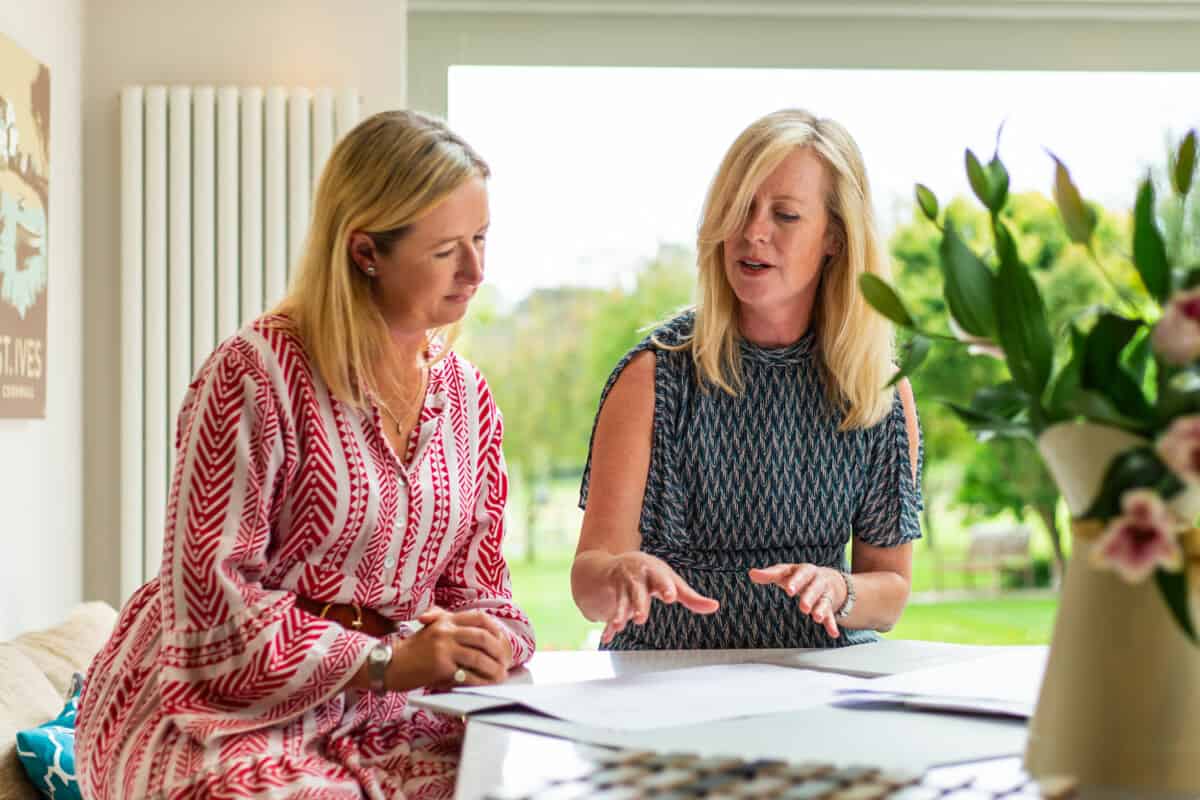 Book a Design Consultation
Our team of expert designers look forward to inspiring you.