David Salisbury's reputation as one of the UK's foremost manufacturers of bespoke hardwood conservatories and orangeries has been built on its quality, service and attention to detail. Designing, manufacturing and installing your new conservatory are the final stages of a process, which frequently starts with a site survey.
We are normally asked to provide a building specification for the base and walls onto which the timber conservatory or orangery will be erected. It is always our policy to advise best practise when drawing up building specifications and the information below is intended to reflect that policy and to provide a guide as to what to expect when you decide to purchase a new conservatory or orangery from David Salisbury.
PREPARING THE BASE
When preparing an orangery or conservatory base, consider the following:
The removal of any existing building, base, trees or shrubs.
Excavate trench – normally 1,000mm deep and 500mm wide.
Infill with concrete to a minimum depth of 225mm.
Prepare a sub-base of compacted hardcore blinded with a layer of sand and covered with a 1,200 gauge damp proof membrane lapped at all joins. In-fill with a 100mm depth of C20 concrete. The floor will be insulated with a 50mm layer of rigid polyurethane foam boards. Where part L building regulations apply, the depth of the insulation will be calculated so that a site-specific U value of 0.25 W/sq.m K is achieved. Where more than 450mm build up is required a block and beam floor will be constructed with a minimum 150mm clear gap to the underside of the beams for ventilation. Finally a 75mm sand and cement screed will be laid and given a trowelled smooth finish.
BUILDING THE WALLS
When starting to construct the walls, ensure:
Double skinned dwarf walls are constructed to a specified height from internal finished floor level.
All new walls will be constructed with a 75mm cavity and insulated with 50mm rigid polyurethane foam boards in compliance with parts L1 and L2 of building regulations. Stainless steel wall starter profiles and wall ties will be used throughout. Walling below ground level to be filled with lean mix concrete.
A variety of building materials to match existing house facing (e.g. brick or reconstituted stone) to be built up on outer leaf.
Where possible a damp proof course should be inserted at a minimum of 150mm above ground level.
Steps from the conservatory into the garden can be provided at an additional cost.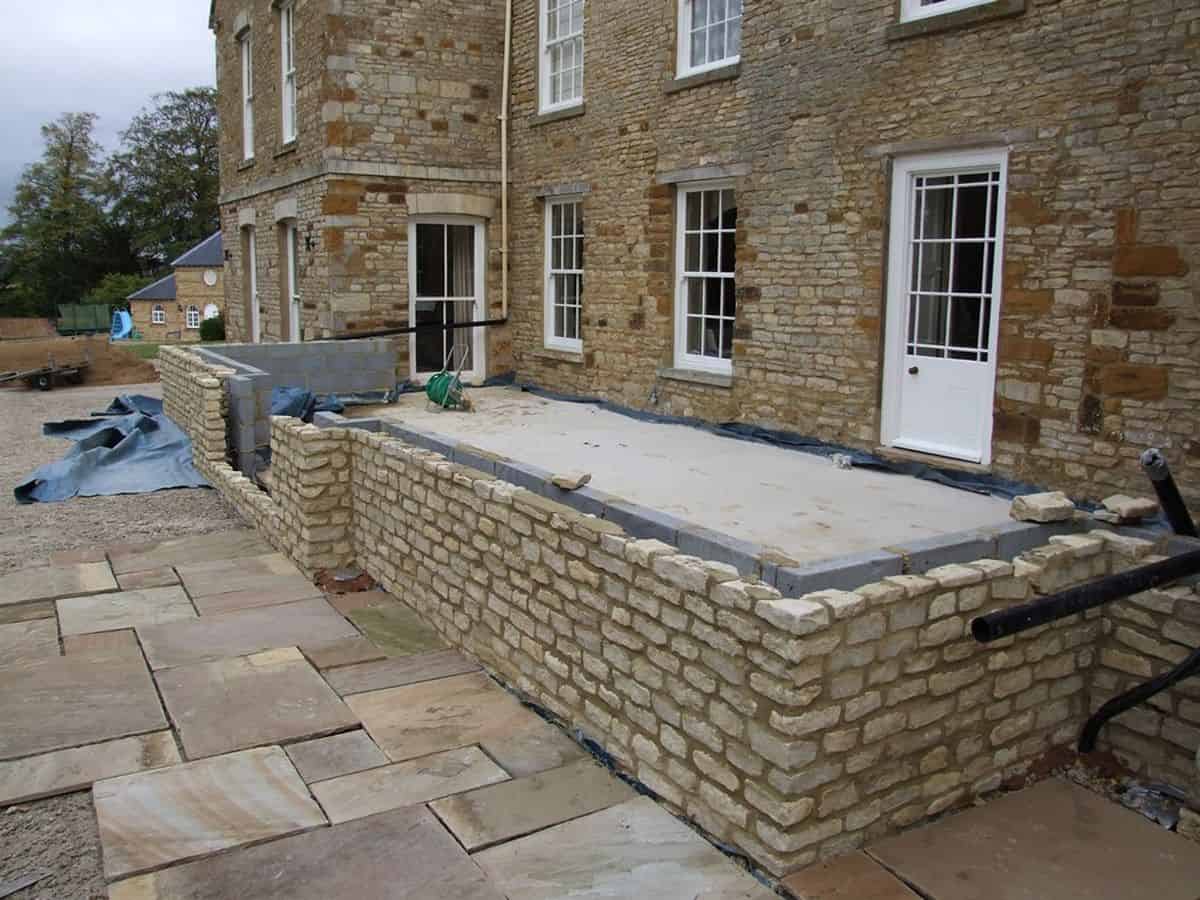 ACCESS TO THE orangery or conservatory
In some cases a new conservatory or orangery can be accessed from the house through an existing external door.
In other situations where there are no opening exists or there is an existing window, a new opening will be cut through the existing wall and a suitable lintel installed to retain the load-bearing integrity of the wall structure.
FIXINGS
Stainless steel wall starter profiles are used to fix the conservatory or orangery dwarf wall to the host wall.
If the wall against which the conservatory or orangery is being built is a cavity wall, cavity trays may be required (at an additional cost).
Lead flashing (code 4) is used to create a weather resistant bond between the conservatory or orangery roof and the existing wall. The flashing can be either straight or stepped (at an additional cost).
Box Gutters are frequently used to accommodate certain site conditions when connecting the new conservatory or orangery roof to the host building.
SERVICES
Drainage: Inspection covers/rodding eyes etc. – wherever possible existing drainage that interferes with new building will be re-routed, with guttering and down pipes connected to existing rainwater system (in some cases it may be necessary to dig out a new soak away).
Electrics: If required a qualified electrician would undertake electrical work. To comply with the latest I.E.E. regulations we will not connect any new power circuits unless they are individually protected by a 30 milliamp RCD. Normally electricity will be supplied using existing power circuits local to the conservatory. Where the load is too heavy new wiring direct to the consumer unit may be required, at an additional cost.
Heating and Ventilation – where required this will normally be one of the following types:

Convector heaters – electrically powered, wall mounted or freestanding.
Wet system – extend from existing central heating circuit, if appropriate.
Under-floor – electric (wires or matting). These may require a dedicated power supply direct from the consumer unit.
Air conditioning – available as required.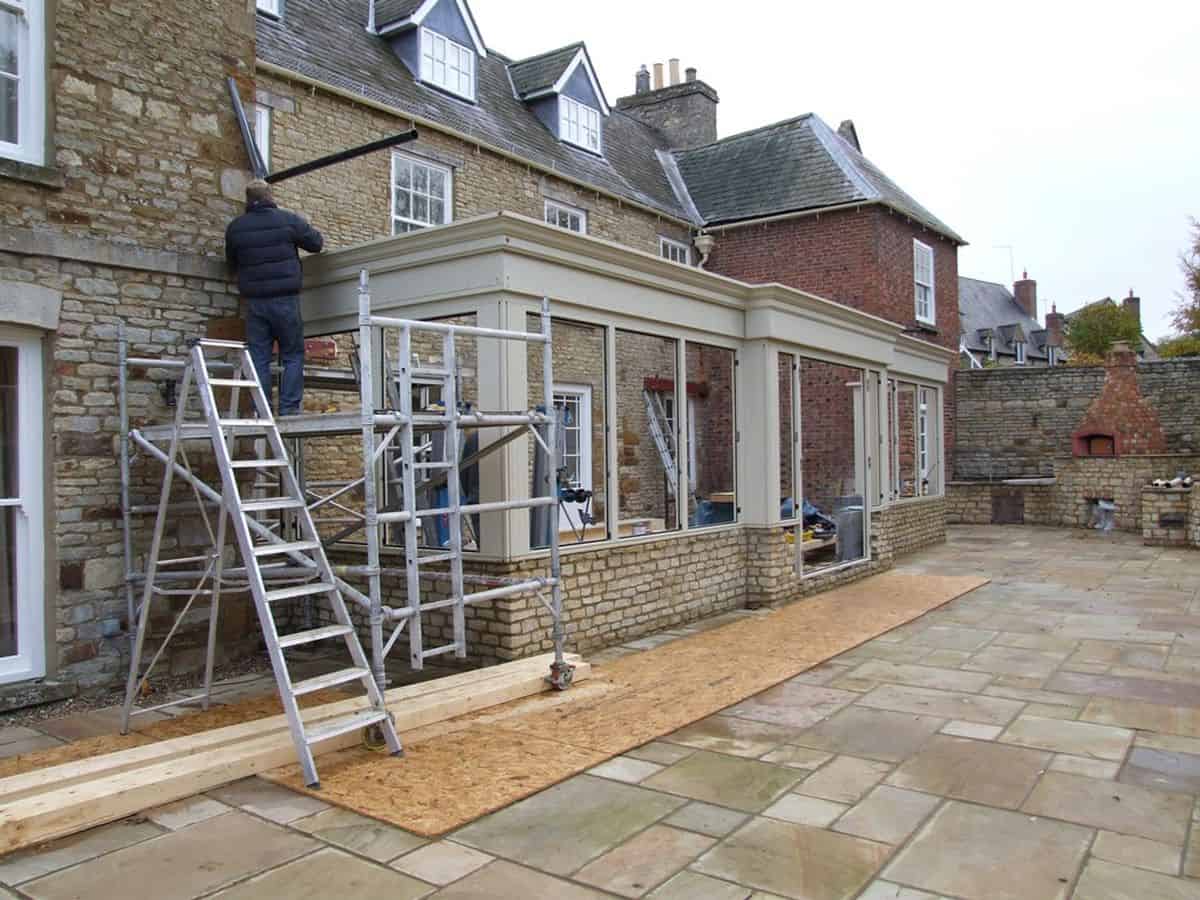 WHAT TO EXPECT DURING THE BUILDING STAGE
Building work associated with installing a new garden room or oak extension will inevitably involve some inconvenience as builders and their vehicles come and go during the preparation of the base. Our builders will require reasonable access throughout.
Our professional fit teams take pride in their work and will leave your site clean and tidy at the end of every working day.