Whilst we often conduct our photoshoots during the Summer season, it is always good to take the change to photograph an exquisite property like this, when the opportunity arises.
Shooting photography during Autumn means working with shorter days in terms of daylight and different light conditions in general – but also means we can enjoy the full visual impact of our work during the day and into dusk.
Modern ORANGERY KITCHEN EXTENSION
This stunning, modern orangery kitchen extension in Surrey is a great example of the type of project which continues to be amongst our most popular design briefs: that is, extending the overall floor area of a customer's home to make space for a larger kitchen and the type of open plan living which remains on trend.
Expertly designed by John Baker, the dark paint finish adds a contemporary feel to the exterior of this orangery, which serves as a contrast to the white timber windows of this period property.
Whether by day or by night, this orangery kitchen extension almost invites you in – forming a link between house and garden. French doors open out onto a patio area which extends for much of the width of the house and features a range of outdoor furniture, ideal for relaxing or entertaining.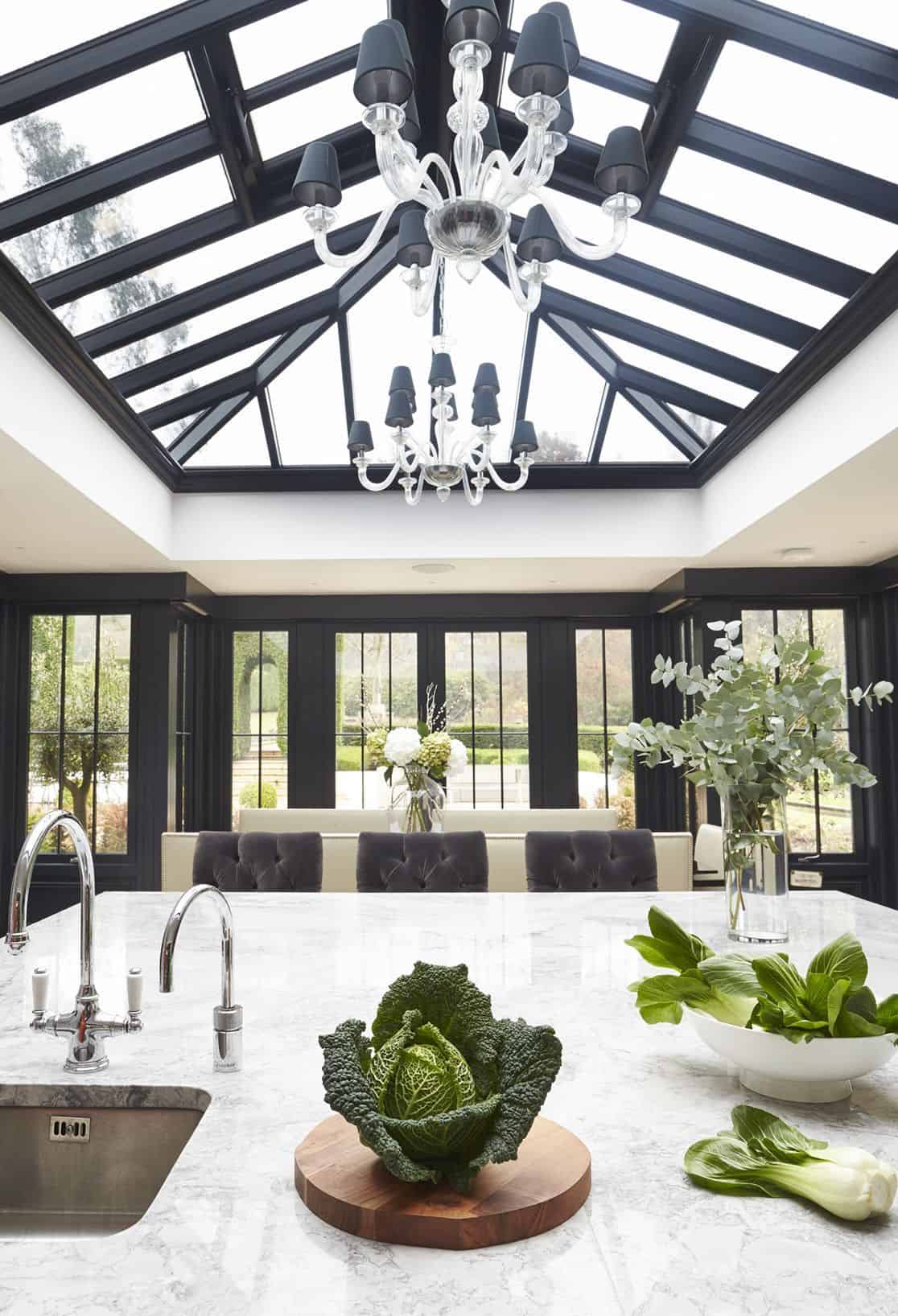 Moving inside, the monochromatic look continues – with the roof lantern and chandeliers providing a striking centre point to the design.
The interior is undoubtedly augmented by the customer's exquisite taste in interiors. From the bespoke timber kitchen, to the marble worktops, from the complementary stone flooring to the contemporary choice of furniture, this orangery kitchen extension exudes style.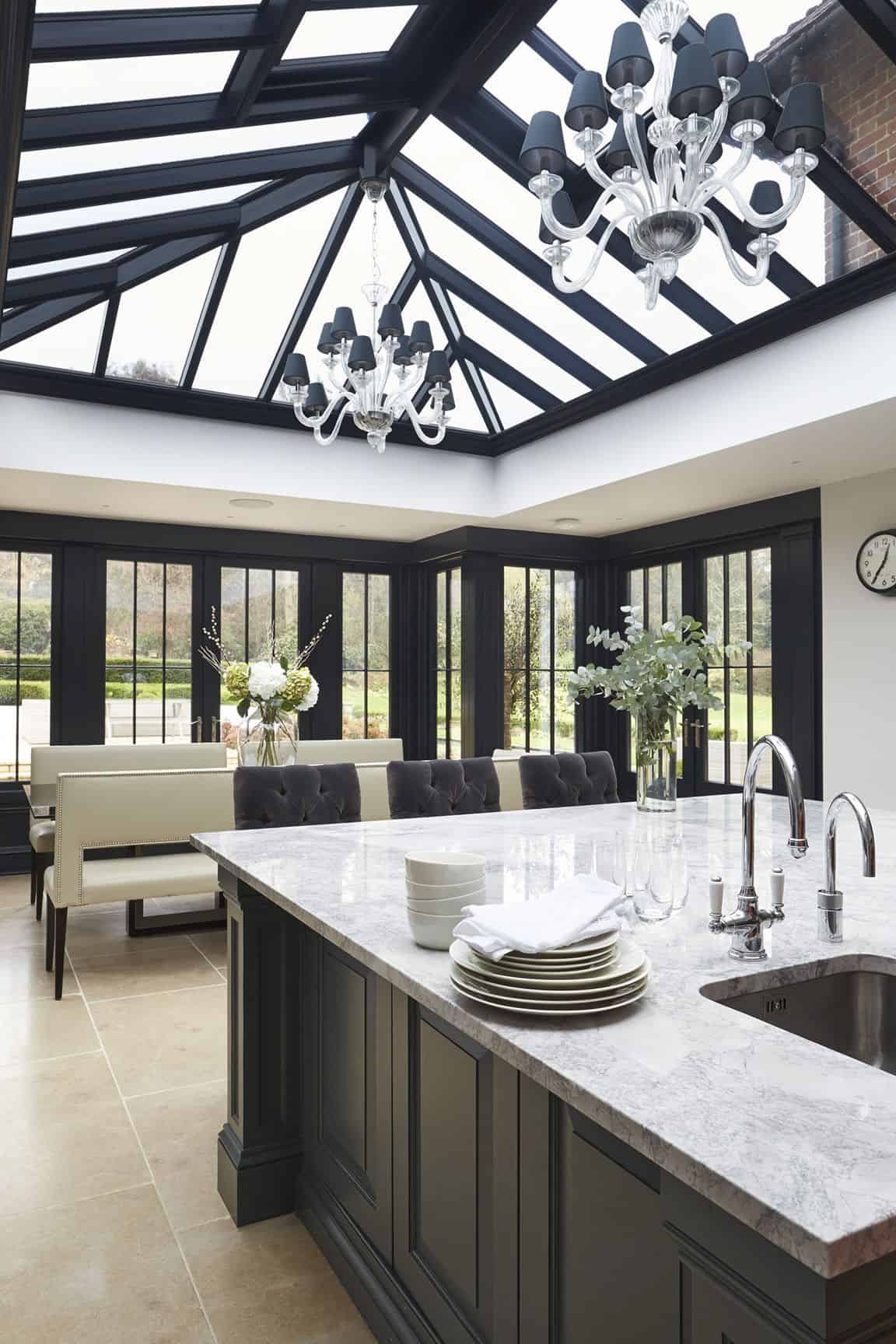 We might be biased(!), but we think this case study would make a strong statement in a prestigious magazine like House & Garden or World of Interiors.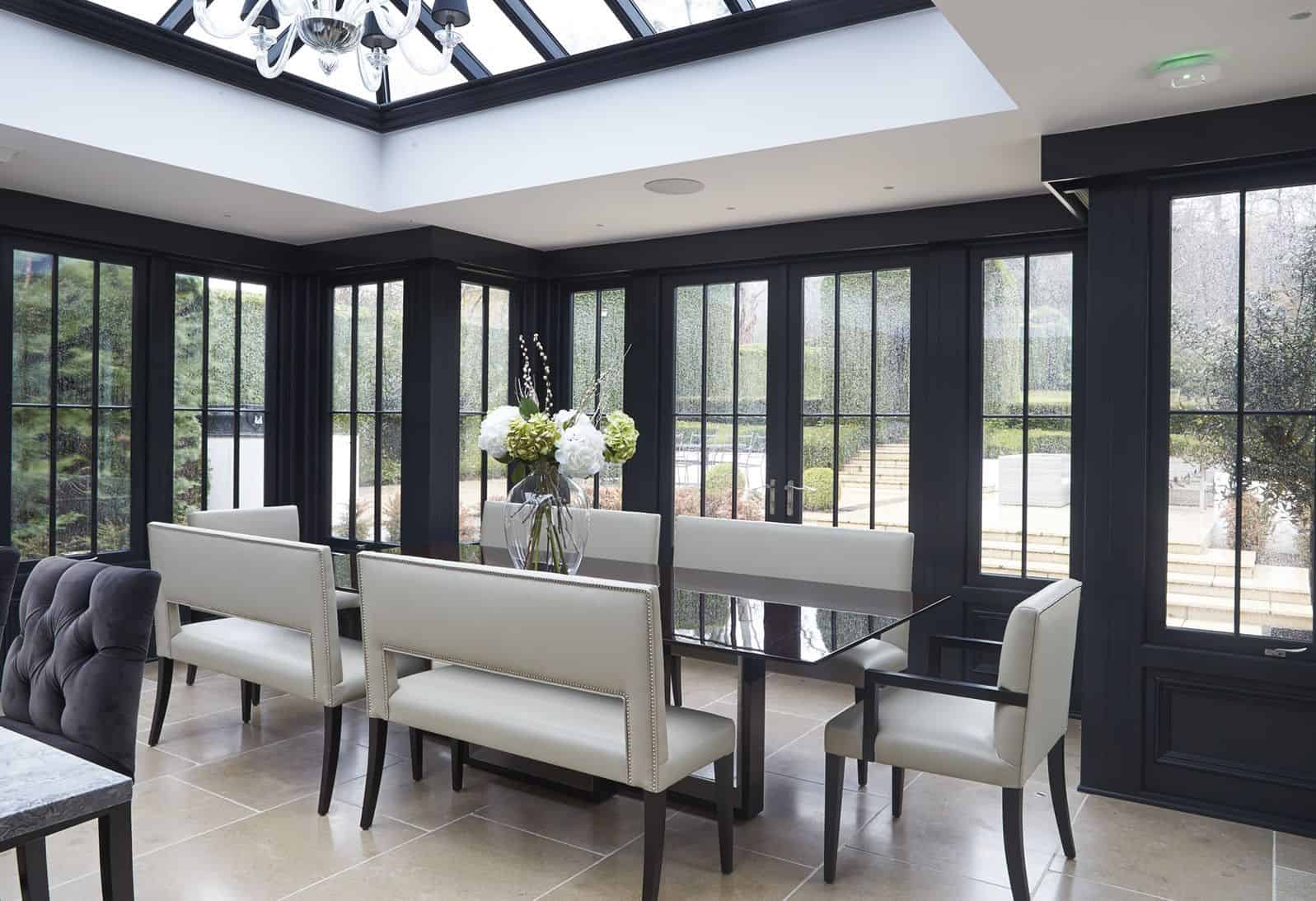 With ample space for cooking, entertaining, coffee with friends, entertaining over dinner or simply time spent doing homework with the children, the functional space created by adding an orangery or garden room extension is literally endless.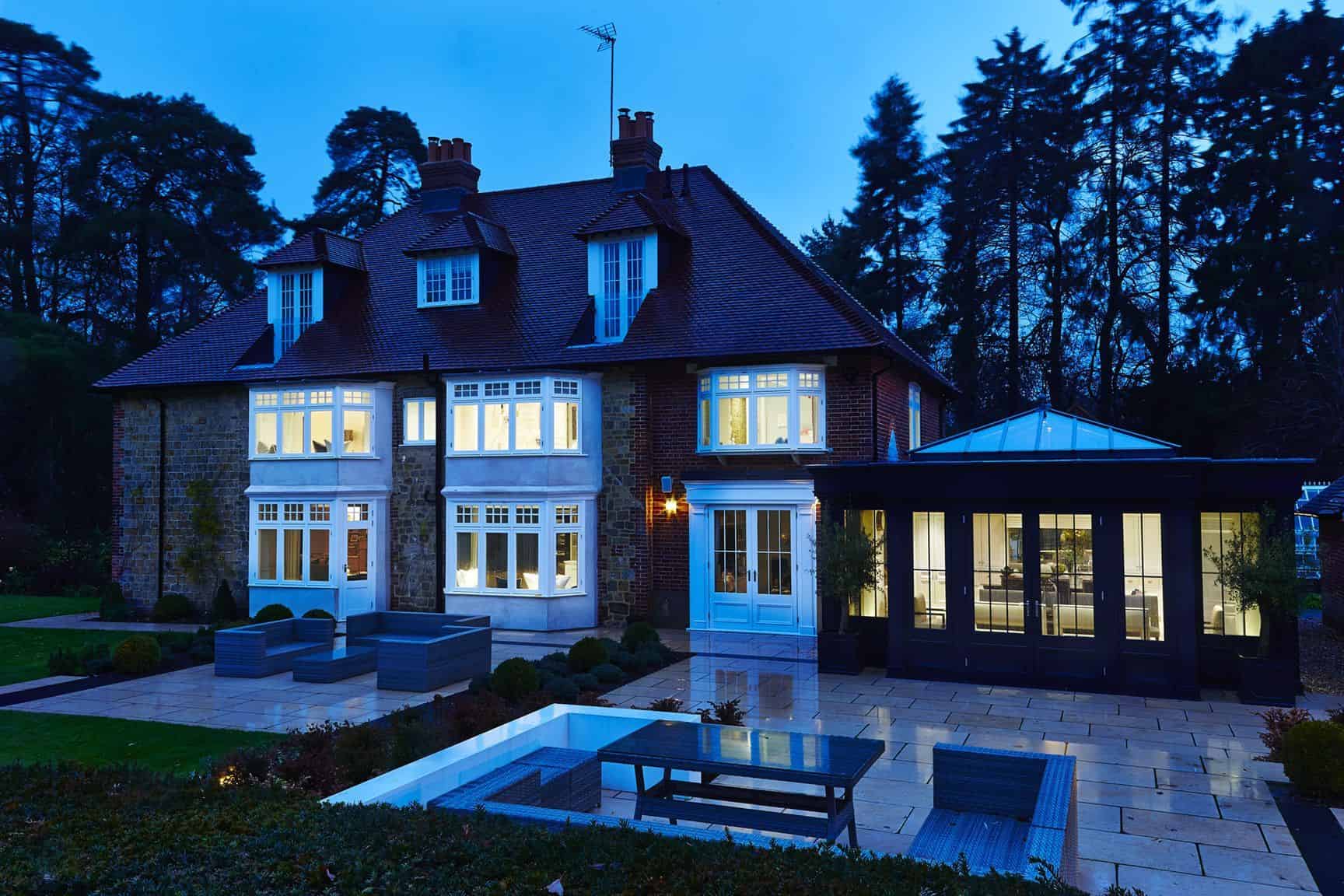 Why not request our brand new brochure and see for yourself the many examples of how we don't just add to your home, we transform your home.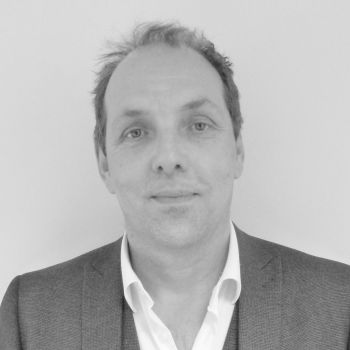 Designer

​,

David Salisbury
John Baker
John is vastly experienced in all areas of design and build. He is also well versed in the technical aspects of our product and is happy to spend as much time as you need discussing ideas with you to achieve the perfect result for you and your home.
John has over 15 years' industry knowledge. His thorough command of design, build and all the technical aspects of any project means John is at his happiest discussing new ideas with clients to make the most of their homes.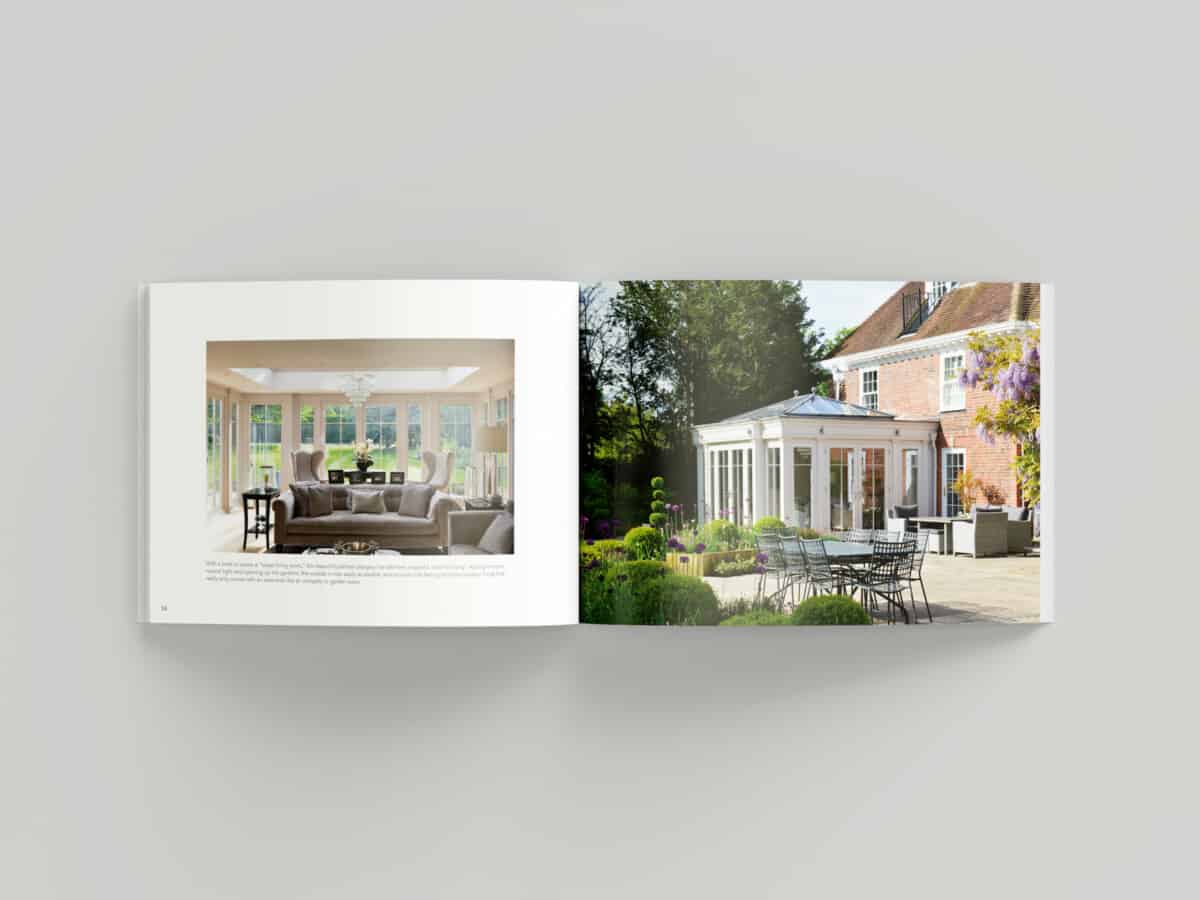 Request Our Latest Brochure
Full of inspirational designs to captivate your imagination.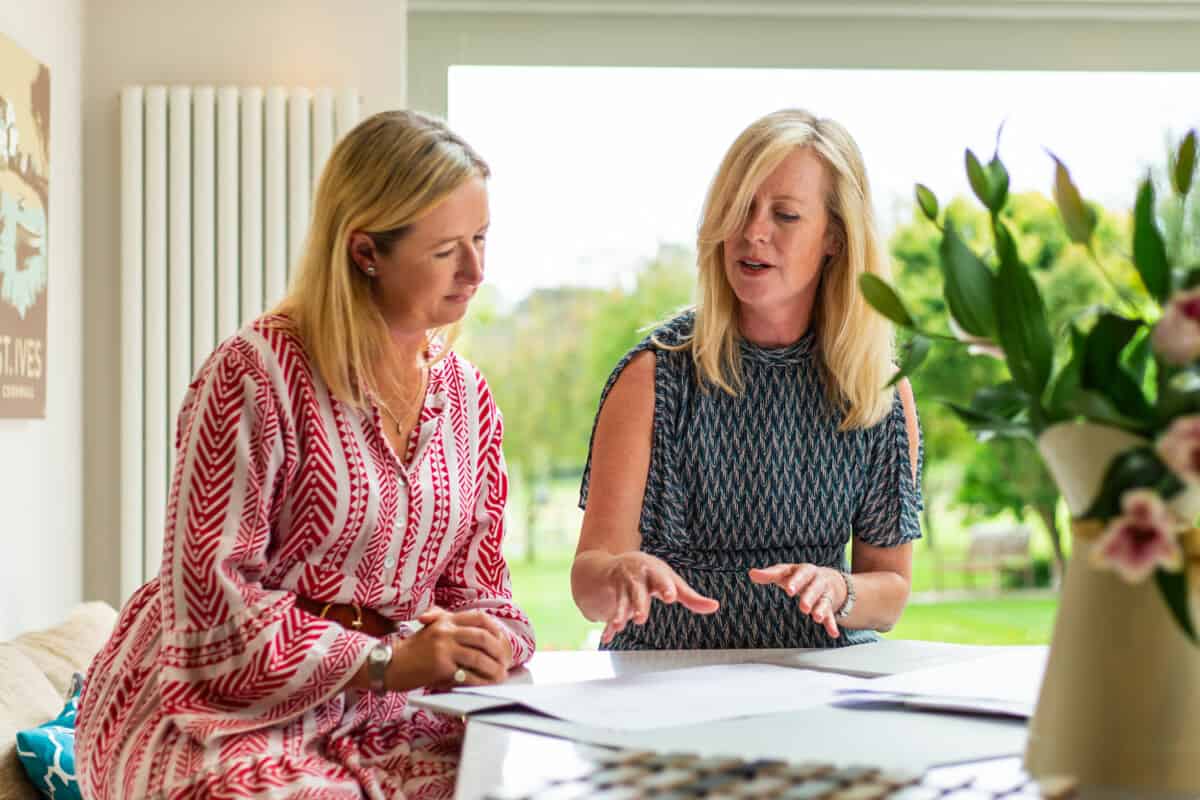 Book a Design Consultation
Our team of expert designers look forward to inspiring you.