Nestled in the midst of the Cotswolds, this listed former rectory required a sensitive orangery design to complement the features of this heritage property and to successfully obtain the necessary planning consents.
With an extensive track record in the design of bespoke orangeries and garden rooms for specialist period buildings, Simon Phipps, one of David Salisbury's most experienced designers, was perfectly placed to undertake this challenging design brief.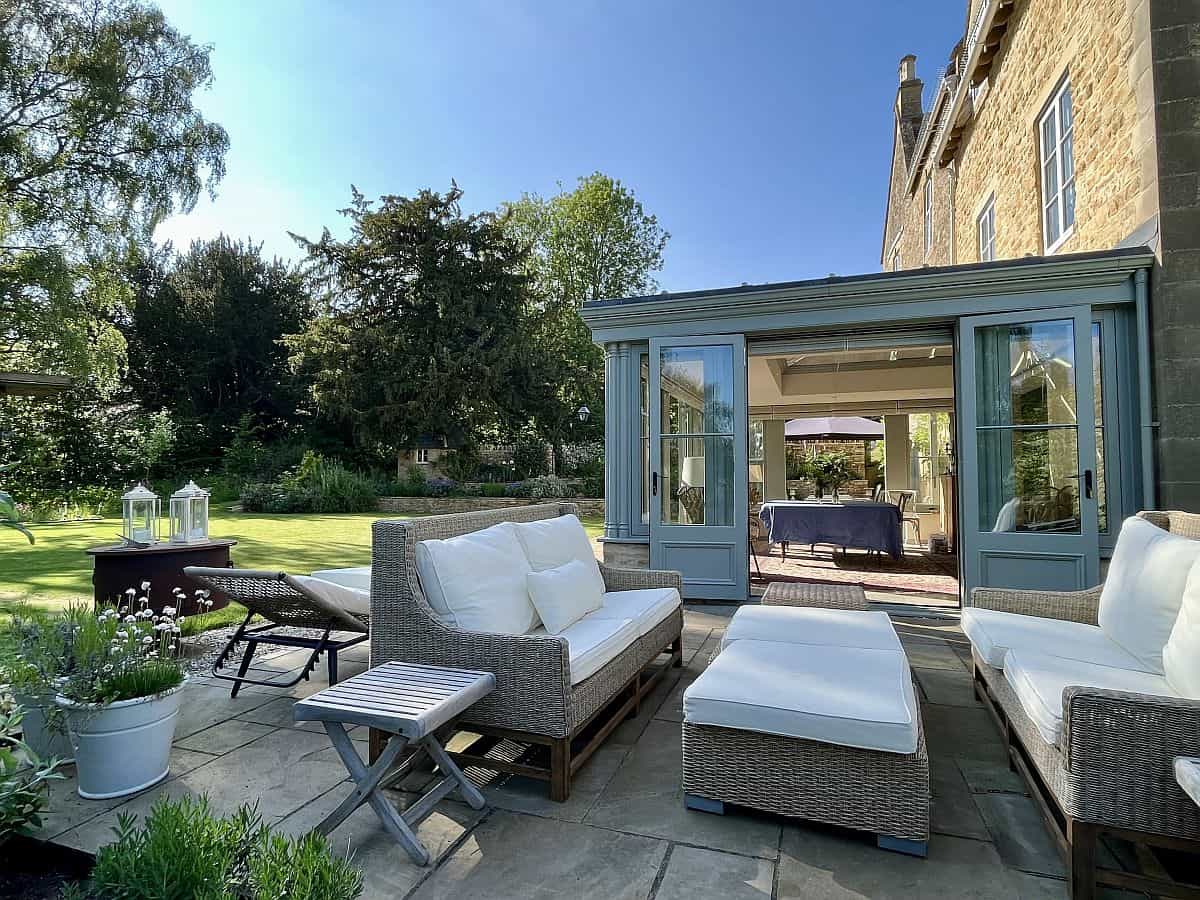 Planning & Listed Building Consent
To provide some wider context, this Grade II* listed farmhouse is located within the Broadwell Conservation Area and the Cotswolds Area of Outstanding Natural Beauty (AONB).
The host building was a three storey detached property of lime stone construction with a Cotswold stone tile roof. The proposed orangery aimed to conserve the house as a family home for modern living, whilst preserving the 'significance of the heritage asset.'
David Salisbury undertook and successfully obtained full planning and listed building consents for this project, as part of our comprehensive planning service.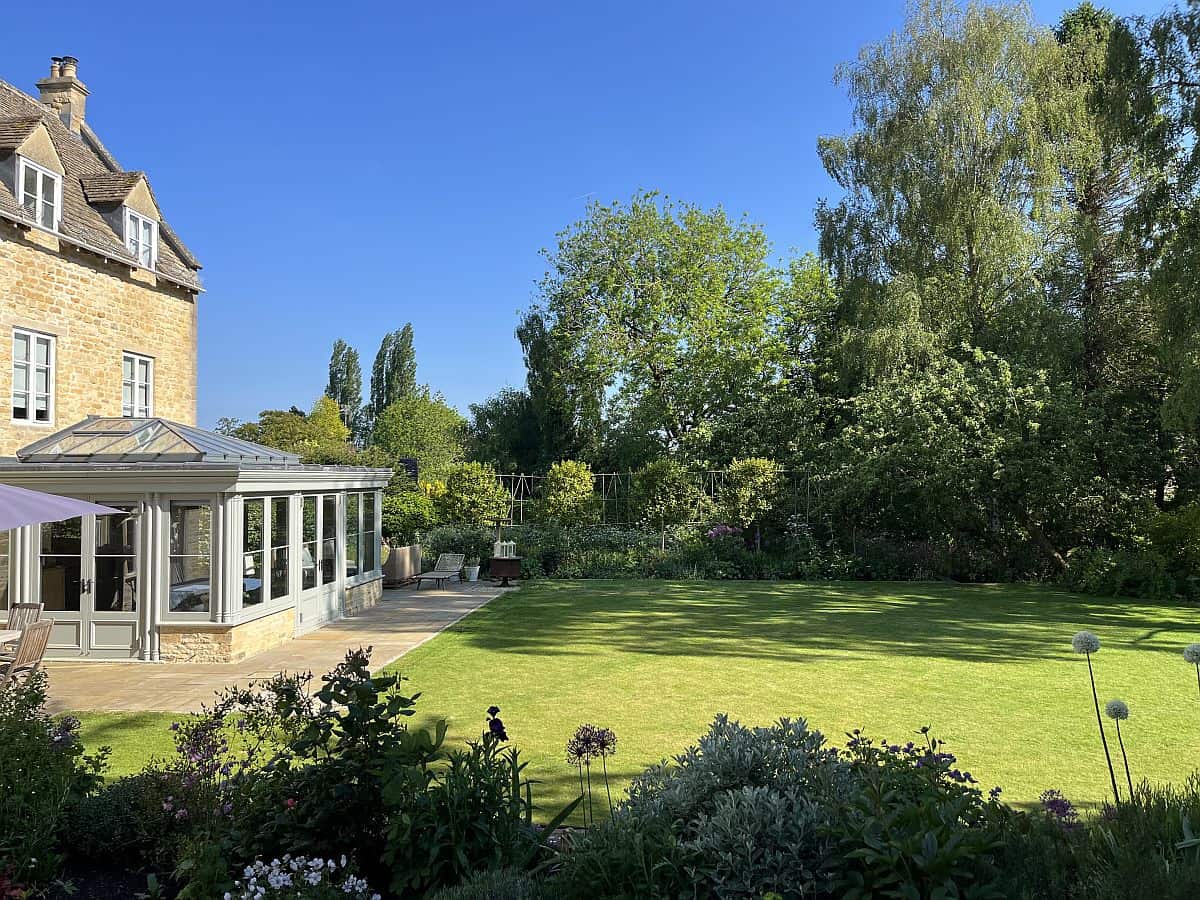 David Salisbury created not just a very handsome and appropriate extension, but managed to obtain all the obligatory planning and Grade II Listed Building consents required due to its heritage and location in a conservation area and AONB
Orangery Design Brief
The farmhouse featured a more recent extension whose ground floor sitting room was totally re-modelled to create a large family kitchen. Attaching to it, the new orangery had to remain in keeping with and subservient to the original listed property.
So a particularly sensitive balance of aesthetics and complementary building materials had to be struck to satisfy the requisite planning approval.
The simple but classic design, with slim fascia and slim glazing pattern, added a bright reception room directly off the new kitchen.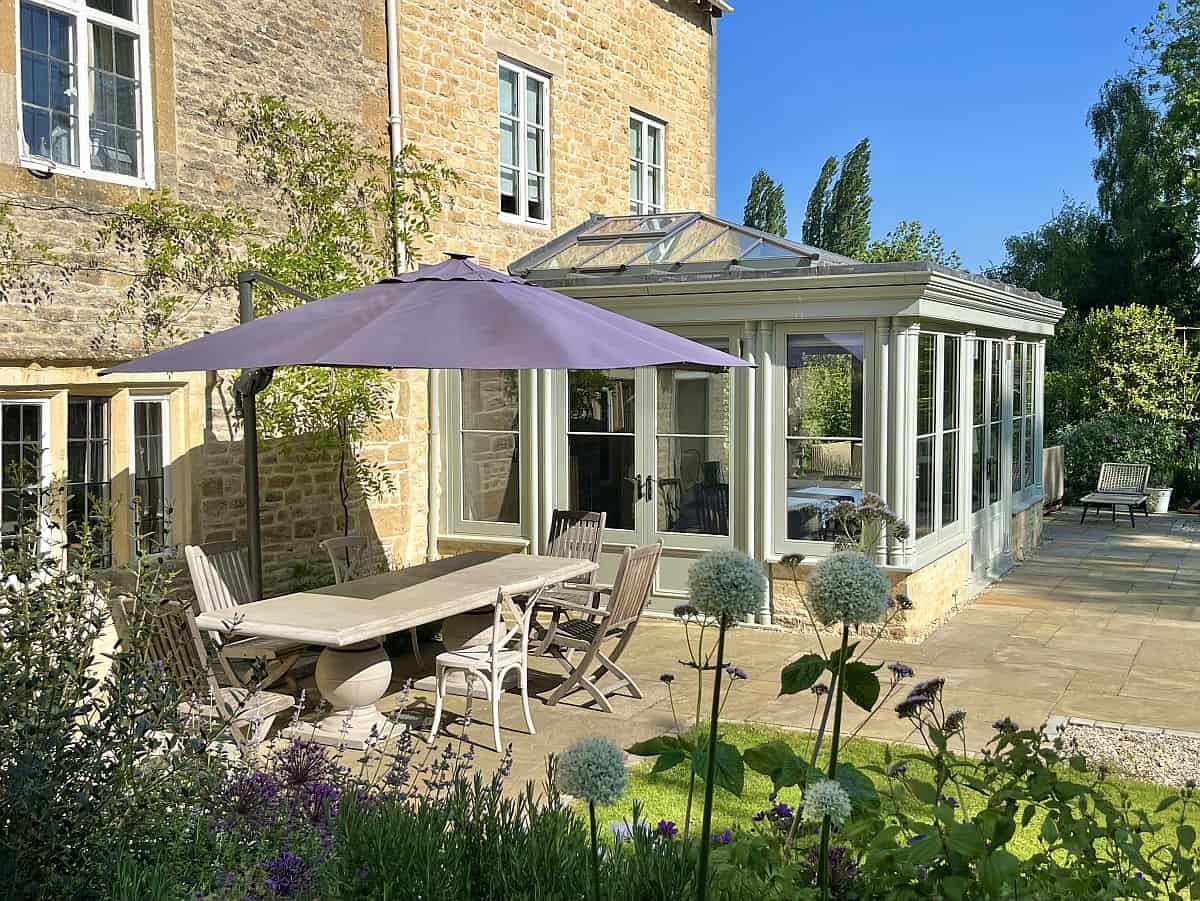 Two windows were blocked in as part of the works, but with the doors to the kitchen removed to create a permanent opening and with the glass lantern positioned directly above the opening with no rear ceiling, there is a dramatic increase in natural light into the new kitchen.
Wide French doors on two elevations provide an ideal link with the gardens and entertaining area to the side.
Before & After
This stylish orangery combines traditional design features with the finest quality modern building specifications, to allow year round enjoyment.
The footprint of the new extension measures approximately 6.2m wide by 4.2m deep, providing 26 square metres of additional luxurious living space, rounded off in our contemporary Mendip Grey paint finish.
The before and after photos below help to illustrate just how the rear of this period property has been transformed, with the new orangery creating an exquisite link between the house and garden.
Orangery Results
The simple but classic design solution, with its stone base, slim fascia and elegant glazing pattern is sympathetic in style and creates a timeless, bright, flexible living space.
This bespoke orangery has more than fulfilled the original design brief, providing an extension that preserves the fabric and significance of the owner's lovely listed home whilst also conserving the property as a family home for future generations.
The finished Orangery is classic and timeless in style…Everyone is thrilled with the result.
Cotswolds based Cid Carr Interior Design, who specialise in the subtle transformation of heritage buildings for modern living, designed the interior space and acted as project liaison.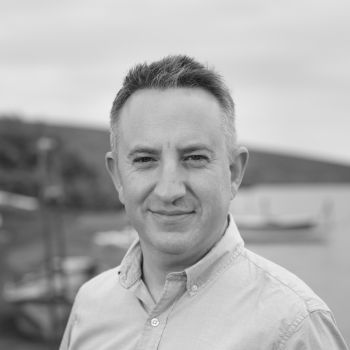 Designer

​,

David Salisbury
Simon Phipps
After studying Product Design & Visualisation at the University of Bournemouth and Psychology at the University of Gloucestershire, Simon moved back to Somerset from Cheltenham to work for David Salisbury in 2007. His design training along with 14 years' experience with David Salisbury means his designs are as varied as his clients and their properties.
Simon enjoys the challenge of a difficult design and is passionate about getting the design right for his clients. He has a wealth of knowledge of working with the David Salisbury product and the cutting-edge technology behind it, which allows us to retain our market-leading quality. Outside of his work with David Salisbury, Simon's time is taken up by his 2 children, 3 dogs and a horse!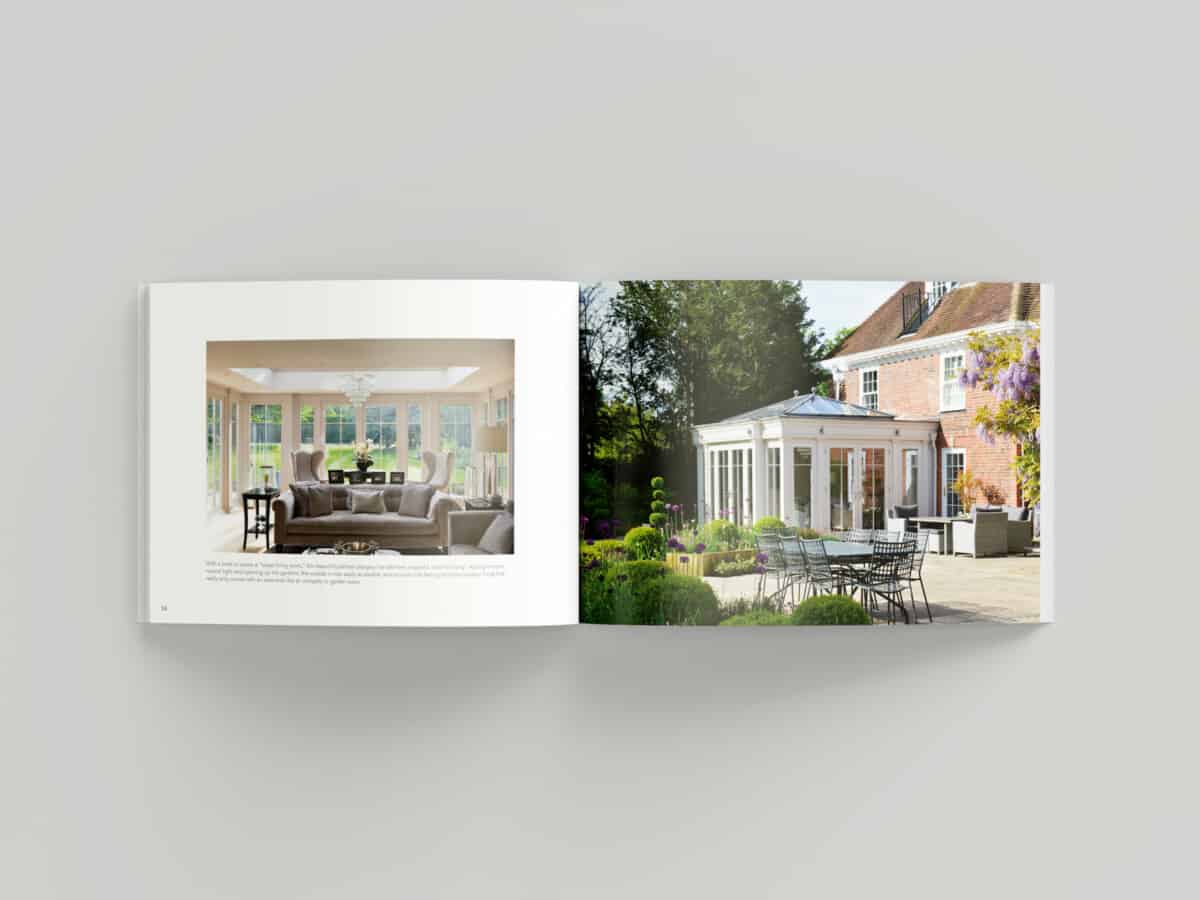 Request Our Latest Brochure
Full of inspirational designs to captivate your imagination.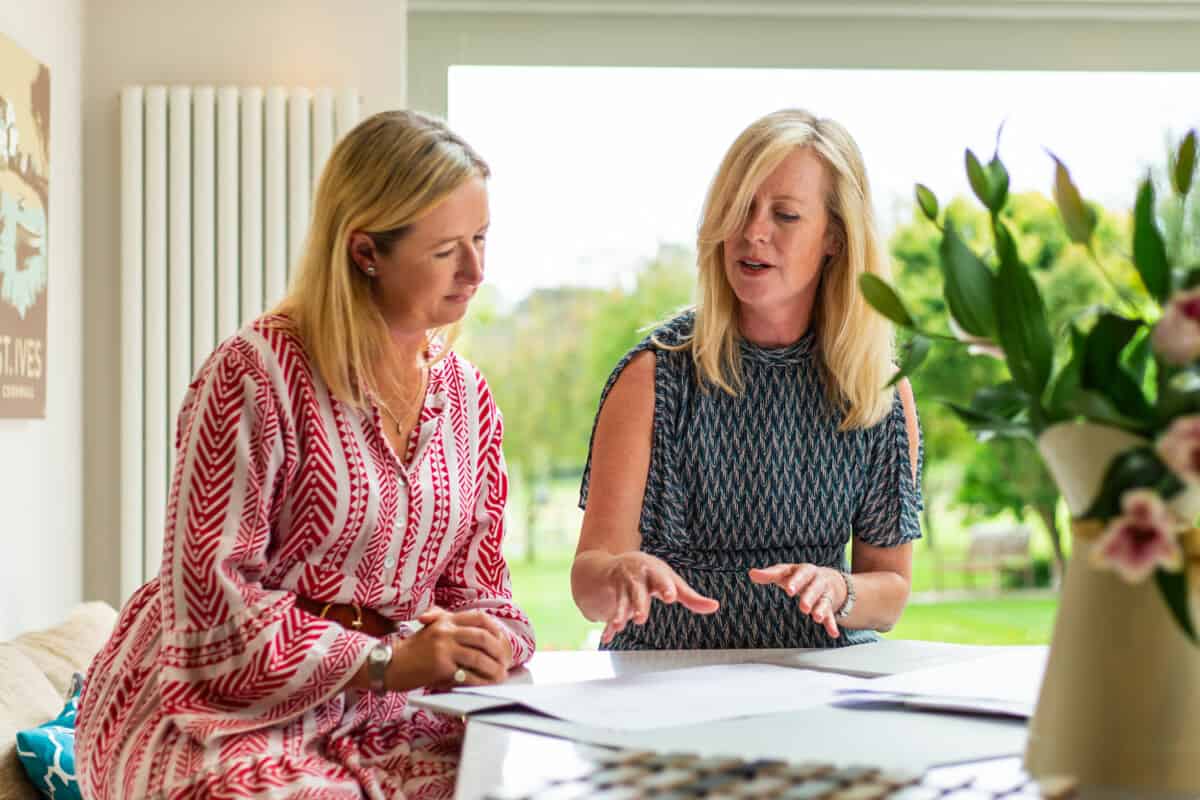 Book a Design Consultation
Our team of expert designers look forward to inspiring you.