We aspire to have a diverse and inclusive workplace and strongly encourage suitably qualified applicants from a wide range of backgrounds to apply and join us.
Whilst we have a nationwide focus, we actively encourage applicants from the local area and would like to build on what is already a long-standing success story for the Highbridge and Burnham part of Somerset.
David Salisbury is the leading manufacturer of timber orangeries, conservatories and garden rooms in the UK.
Based in Somerset, the company caters to both residential and commercial customers, demonstrating unrivalled technical innovation as well as a commitment to excellence in customer service.
Due to an internal restructure, we are seeking a Head of Installations to join our team.
Responsibilities:
Reporting to the Managing Director, the Head of Installations will have responsibility for all of David Salisbury retail sites and installations. They will lead the teams within Installations (Contract Management, Customer Services & Fitting/Remedial) to deliver exceptional levels of customer service and improve contract profitability.
✅ Managing the installation schedule, ensuring budgets are met and profit maximised.
✅ To ensure that the quality of all work carried out on site is to company standards.
✅ Continuous development of exceptional standards of customer service.
✅ Review Installations procedures and policies on a regular basis to ensure they remain relevant and effective.
✅ Health & Safety of Installations teams and sites.
✅ Develop an effective training environment for all teams within installations.
✅ Ensure continuous feedback throughout the organisation of opportunities for improvement.
Requirements:
✅ Contracts / Project Management background with an understanding of the construction industry.
✅ Excellent leadership skills with an ability to foster effective team working across all departments.
✅ Excellent communication skills with the ability to resolve complex customer issues while looking after the company's financial interests.
✅ Proven experience of delivering complex / bespoke projects ideally with high net worth clients.
✅ Ability to demonstrate experience of delivering outstanding customer service.
✅ Able to manage conflicting priorities, calmly and pragmatically.
✅ Full UK Driving licence.
Benefits:
✅ Competitive salary, with confidence of working for an established and growing company.
✅ Company Pension Scheme.
✅ Opportunity for progression within the business.
✅ A stimulating & dynamic environment.
With an ambitious strategy, we're poised for further growth and success, so if you're committed, talented and enthusiastic, we would like to hear from you.
To apply, please e-mail recruitment@davidsalisbury.com.
David Salisbury, the award-winning designers and manufacturers of luxury timber garden rooms, has launched an exceptional new collection of bespoke kitchens.
Combining world class technology with precision joinery manufacturing, our new range of kitchens are engineered, designed and built to the same exacting standards for which the name David Salisbury has become renowned. Made here in the UK, this is British kitchen cabinetry at its very best.
Become a part of an already well-established design & manufacturing success story, as our kitchen business is primed for significant growth.
We are seeking a proven sales designer, located in our Chelsea Showroom, to design, present and sell luxury kitchens to discerning customers within the showroom or out on site. Supported by our market-leading 3D drawing office, customer services & installations departments, the kitchen sales designer will be able to concentrate exclusively on the design and sales process with full training and support provided.
What you will be doing:
✅ Designing and selling bespoke kitchens, pitched at the luxury end of the market.
✅ Located in the showroom, you will be responsible for the day-to-day operation of our presence in Chelsea.
✅ Meeting new clients in the showroom or out on site as required.
✅ Working qualified leads generated by our marketing & head office team.
What you will give us:
✅ Proven record of sales success.
✅ Experience of working in the kitchen industry would be advantageous, however, relevant experience gained in architectural or interior design and the construction or joinery industry will also be considered.
✅ A passion for design with an eye for detail.
✅ An accomplished presenter & good communicator.
✅ Be customer driven.
✅ Self-motivated.
Full training will be provided along with the opportunity to join an award-winning British manufacturer and become part of the next stage of our ambitious growth plans.
Location: Chelsea.
To apply, please e-mail recruitment@davidsalisbury.com.
Our purpose at David Salisbury Joinery Ltd is to transform homes and living spaces to enhance our customers' enjoyment of life. We use the best, responsibly sourced materials and invest in our people and the latest design and manufacturing technologies to create the finest quality timber extensions in order to exceed our customers' expectations.
3D CAD Technicians are responsible for producing 2D & 3D design concept presentations for sales designers along with the internal development of processes and components to compliment company sales literature.
Key Responsibilities:
✅ Using 3D and Graphic editing software, produce sales concept presentations for all customers;
✅ Using information from both sales and working drawings, present visually accurate views, elevations and section drawings, with high attention to detail, of company product and the existing property, including any additional details required;
✅ Liaise with sales designers & CAD department on any design queries/ structural elements, ultimately providing solutions;
✅ Understand and communicate to others design details within a finished drawing, utilising in depth product knowledge;
✅ Maintaining communication records between 3D department and designers;
✅ Updating the Company database with project progress, noting any information to be available across the company;
✅ Produce 3D components of proven designs using technical drawings and specifications from the CAD technical library and recreating in a 3D library. Ensuring updated when necessary;
✅ Assist the CAD / Survey department when needed to create 3D sections and convert 3D drawings to usable 2D drawings; and
✅ Where possible, develop dynamic components to help increase productivity of the 3D department.
Essential Skills and Experience:
✅ Proven experience in the use of 3D software (specifically Sketchup & Enscape – used for 2D/3D/VR & video presentations);
✅ Good interpretation of 2D architectural drawings and photos;
✅ Ability to work well under pressure and to deadlines;
✅ Excellent communication and team working skills;
✅ Excellent IT skills including Microsoft Office; and
✅ A flair for design
Please note this is an employed, office based position and we are not looking for freelance individuals. There may be scope for hybrid working once fully trained.
No agencies please.
Job Types: Full-time, Permanent.
Salary: £22,000.00-£25,000.00 per year.
Benefits:
✅ Additional leave
✅ Company events
✅ Company pension
✅ Cycle to work scheme
✅ On-site parking
✅ Referral programme
✅ Sick pay
Schedule:
✅ Monday to Friday
To apply, please e-mail recruitment@davidsalisbury.com.
Following a period of unparalleled sales success, we're looking for new self-employed site installation teams and general builders, to help us install our award-winning timber orangeries and garden rooms:
✅ Previous experience installing timber conservatories & oak framed buildings
✅ UK wide positions
✅ Product training provided
✅ Experienced at working on high end residential properties
✅ CIS registered
✅ General builders wanted for groundworks
To apply, please e-mail marketing@davidsalisbury.com.
If you would like to apply for any of these roles, please e-mail recruitment@davidsalisbury.com.
As we would prefer to talk to candidates directly, could we politely note: No Agencies, thank you.
Apprenticeships at David Salisbury
At David Salisbury, we are committed to training and development.
We work with local colleges to offer apprenticeships in Wood Occupations (Construction) at level 2 and level 3. Courses start in September each year.
Current apprenticeship vacancies will be advertised on the Apprenticeship service by the college who manage applications on our behalf.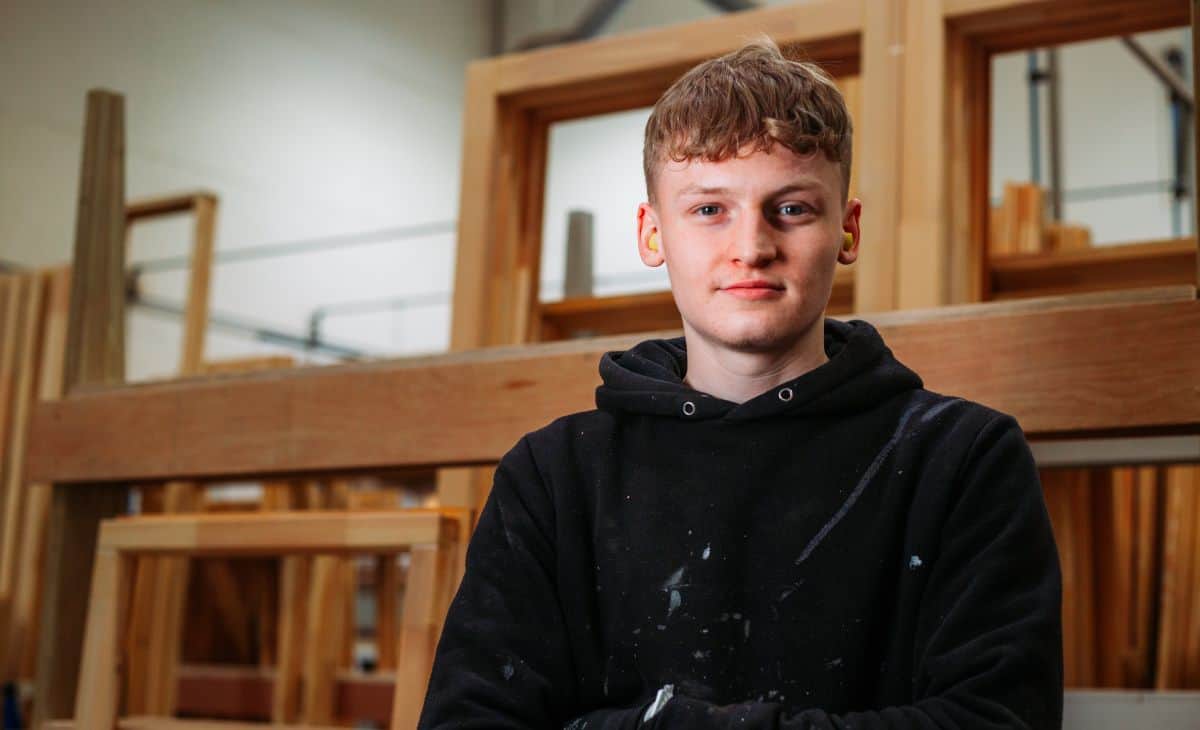 If you would like to find out more about apprenticeships at David Salisbury, please e-mail recruitment@davidsalisbury.com.