We aspire to have a diverse and inclusive workplace and strongly encourage suitably qualified applicants from a wide range of backgrounds to apply and join us.
Whilst we have a nationwide focus, we actively encourage applicants from the local area and would like to build on what is already a long-standing success story for the Highbridge and Burnham part of Somerset.
If you'd like to join a truly innovative design and manufacturing business, recognised as the market leader in our sector, we're currently looking for candidates in the following job roles:
Our purpose at David Salisbury Joinery Ltd is to transform homes and living spaces to enhance our customers' enjoyment of life. We use the best, responsibly sourced materials and invest in our people and the latest design and manufacturing technologies to create the finest quality timber extensions in order to exceed our customers' expectations. We specialise in both engineered timber (soft & hardwood) as well as more traditional solid oak framed buildings. We are seeking a customer focused, organised and detailed Customer Account Manager to join our Customer Service Team.
Customer Account Managers are responsible for retail client contracts from start to finish, which will involve building strong relationships. You will monitor each contract, ensuring that each stage is completed promptly and effectively whilst keeping the client updated. Once the contract is complete, you will also be responsible for after sales service including the management of after care and scheduling of remedial works.
As part of your role you will also have day to day dealings with the national Contracts Managers, Surveyors, and Planning Department as well as Procurement and the Sales Designers. Excellent communication and organisational skills are absolutely essential as well as the ability to build strong working relationships.
✅ Essential Skills and Experience required for the Customer Account Manager:
✅ Proven customer service experience or account management experience;
✅ Able to demonstrate through actions, a high level of professionalism, integrity and commitment;
✅ Motivated self-starter who is proactive in their approach;
✅ Ability to maintain accurate records and file notes;
✅ Strong administration and organisational skills;
✅ Ability to manage conflicting priorities, calmly and pragmatically,
✅ Articulate, able to generate excellent working relationships across the Company at all levels and be an effective communicator;
✅ Excellent communication skills via email, telephone and face to face; and
✅ Excellent ICT skills including Microsoft Office applications and bespoke software.
Salary £20-23k DOE.
To apply, please e-mail recruitment@davidsalisbury.com.
We have a vacancy for a Despatch Operative to work on 10am to 6pm Monday to Thursday, 8am to 4pm Friday.
Reporting to the Despatch Manager, responsibilities are for the preparation of product for delivery and loading of vehicles whilst working in accordance with standard procedures (SOP's) in line with schedule order.
This role will involve some heavy lifting.
Responsibilities and Duties
✅ Wrapping and preparing components for delivery;
✅ Loading of delivery vehicles with finished product;
✅ Dealing with inbound and outbound deliveries;
✅ Control and operation of relevant equipment and machinery as per SOPs;
✅ Ability to communicate with team members and work on own initiative to ensure the schedule order is met;
✅ Compliance to all Health and Safety and PPE requirements at all times as per Company Health and Safety Policy and site requirements;
✅ Visual check of all products to ensure they are of the highest quality and are fit for the intended purpose;
✅ Reading and interpreting Company data with accuracy and in line with schedule order;
✅ Involvement and participation in team projects and process improvement initiatives;
✅ Identification and reporting process improvement opportunities as per Company ideas scheme;
Qualifications and Skills
✅ Experience of working in a despatch environment
✅ Ability to follow written and verbal instructions
Salary: £9.50-£10.00 per hour
To apply, please e-mail recruitment@davidsalisbury.com.
We are seeking an experienced Health & Safety and Quality Manager to ensure all H&S and Quality systems, processes, procedures and audits are in place and adhered to both at our factory and on our sites. The role will promote H&S best practice through providing advice and support on health, safety, environment and compliance matters. This will include conducting factory & site audits, COSHH management, H&S training, writing risk assessments and method statements.
The H&S / Quality Manager will take responsibility for all aspects of quality within the business, identifying and enabling corrective actions to implemented. This will include identifying trends and engaging stakeholders to put into place corrective actions.
As well as exhibiting passion and enthusiasm for our business, the suitable person will have the following:
✅ Hold a NEBOSH Diploma in Occupational Safety, or equivalent (or working towards);
✅ Demonstrable experience in a Health & Safety and Quality roles;
✅ Experience in the development and maintenance of H&S / Quality Management systems;
✅ Excellent working knowledge and experience of the application of CDM Regulations;
✅ Experience in conducting site audits;
✅ Excellent customer service and communication skills;
✅ A team player, with a hands on and flexible approach;
✅ Full UK Driving licence.
Salary: £40-45k DOE.
To apply, please e-mail recruitment@davidsalisbury.com.
3D CAD Technicians are responsible for producing 2D & 3D design concept presentations for sales designers along with the internal development of processes and components to compliment company sales literature.
Key Responsibilities:
✅ Using 3D and Graphic editing software, produce sales concept presentations for all customers;
✅ Read and interpret architectural drawings, survey and design brief information often given in hand drawn form to produce visually accurate views, elevations and section drawings, with high attention to detail, of company product and customer property, including any additional details required;
✅ Liaise with sales designers & technical department on any design queries/ structural elements, ultimately providing solutions;
✅ Understand and communicate to others design details within a finished drawing, utilising in depth product knowledge;
✅ Maintaining communication records between 3D department and designers;
✅ Updating the Company database with project progress, noting any information to be available across the company;
✅ Produce 3D components of proven designs using technical drawings and specifications from the CAD technical library and recreating in a 3D library. Ensuring updates when necessary;
✅ Assist the CAD / Survey department when needed to create 3D sections and convert 3D drawings to usable 2D drawings; and
✅ Where possible, develop dynamic components to help increase productivity of the 3D department.
Essential Skills and Experience
✅ Proven experience in the use of 3D software (specifically Sketchup);
✅ Proven experience in the use of Photoshop, CorelDraw or other graphics editing software;
✅ Proven experience in the use of 3D rendering software (e.g. Vray, Enscape, Lumion etc.);
✅ Good interpretation of 2D architectural drawings and photos;
✅ Excellent IT skills including Microsoft Office; and
✅ A flair for design
Please note this is an employed position and we are not looking for freelance individuals.
Salary: £20,000 – £23,500 per year.
To apply, please e-mail recruitment@davidsalisbury.com.
Following a period of unparalleled sales success, we're looking for new self-employed site installation teams and general builders, to help us install our award-winning timber orangeries and garden rooms:
✅ Previous experience installing timber conservatories & oak framed buildings
✅ UK wide positions
✅ Product training provided
✅ Experienced at working on high end residential properties
✅ CIS registered
✅ General builders wanted for groundworks
To apply, please e-mail marketing@davidsalisbury.com.
If you would like to apply for any of these roles, please e-mail recruitment@davidsalisbury.com.
As we would prefer to talk to candidates directly, could we politely note: No Agencies, thank you.
Apprenticeships at David Salisbury
At David Salisbury, we are committed to training and development.
We work with local colleges to offer apprenticeships in Wood Occupations (Construction) at level 2 and level 3. Courses start in September each year.
Current apprenticeship vacancies will be advertised on the Apprenticeship service by the college who manage applications on our behalf.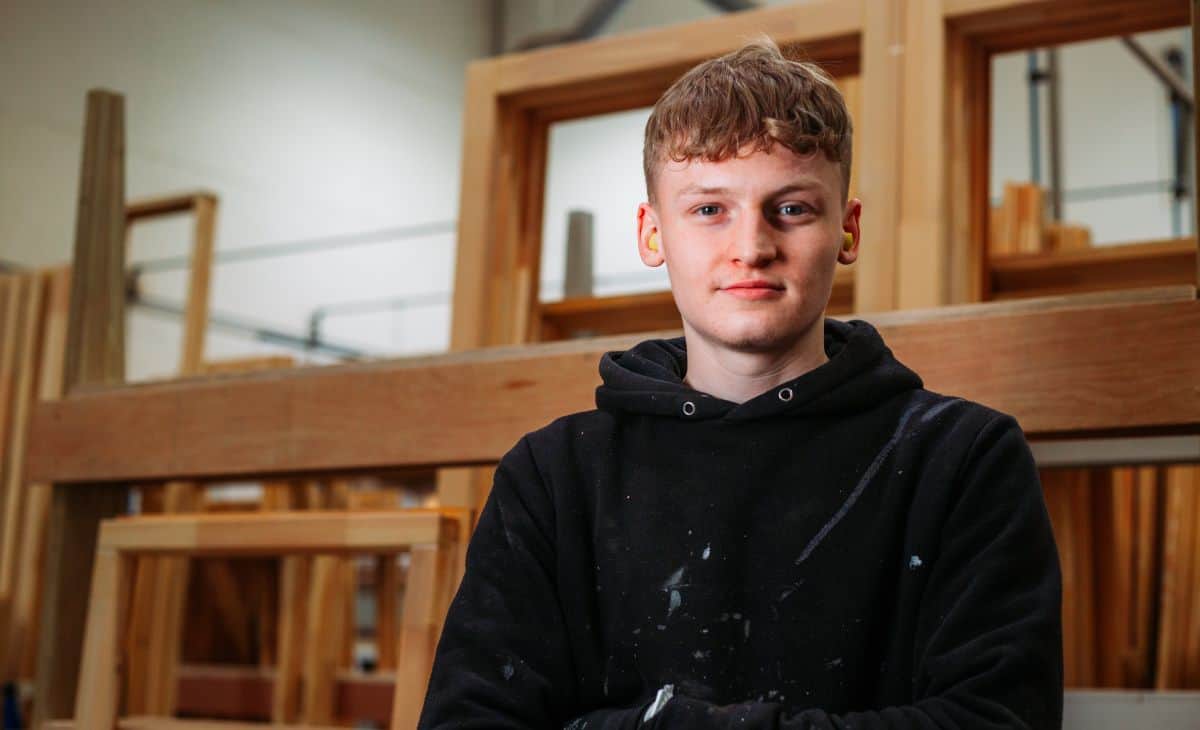 If you would like to find out more about apprenticeships at David Salisbury, please e-mail recruitment@davidsalisbury.com.